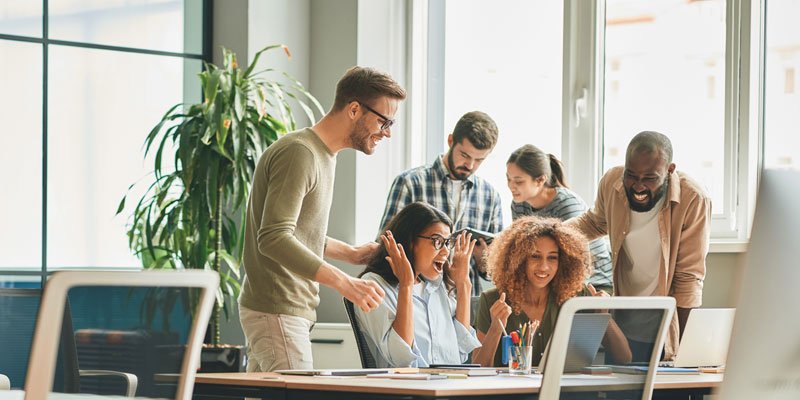 To keep up with external competition and market developments, companies need to speed their innovation cycles more than before. Certainly, rapidly growing and early-stage companies need to build technology-driven products that scale with customer requirements.  
What does it mean for businesses? 
Companies of the modern era need skilled professionals with diversified experience and expertise to develop customer-centric products. But in reality, sourcing, hiring, and retaining top IT talent will always be a daunting challenge across industries, especially for companies that limit their teams to the local talent pool and low budgets.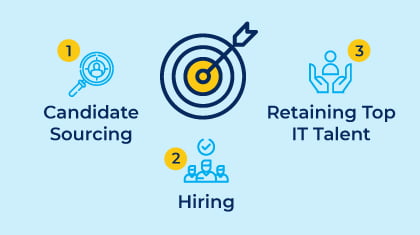 If you are facing tech talent acquisition challenges, don't think that you are alone. Many business owners and product managers across the globe are facing talent acquisition and retention challenges today. 
Then, how can you build your tech development team? 
As technology is blurring geographical limitations, embracing remote methodologies and staff augmentation can help you build industry-leading extended tech development teams. 
Growing tech talent shortage in the USA
Amidst ongoing uncertainty, extended team models have become an immediate solution for companies with advanced skills requirements. 
Let's look at the benefits of an extended tech development team, how to make it work, and mistakes to avoid while building it. 
What is an extended development team? 
With the rapid technology adoption across industries, companies are spearheading towards developing modern applications and legacy application modernization. 
However, finding and hiring tech professionals with advanced skills continue to be the biggest challenge for companies. Especially for SMEs with limited internal resources and budgets. 
Indeed, project outsourcing is one of the viable business models available now. In this model, you don't need to build your own and in-house team. The IT outsourcing company will take end-to-end responsibility to develop your application. 
But what if you already have an internal team and lack specific tech skills to build the project or product? Outsourcing the entire project will not be a good choice, right! Furthermore, for projects with a limited time frame, hiring resources full time will not be a viable solution. 
An extended tech development team, also known as staff augmentation, is a method of bringing skilled resources missing in your internal team.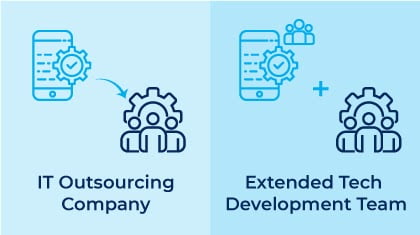 Unlike in traditional outsourcing, you collaborate with an IT partner to build a dedicated team of developers either nearshore or offshore.
An extended development team model cuts costs while benefiting companies access the best talent worldwide. The extended team professionals work with your internal team to fill the skills gaps, quick project implementation, ensure better productivity, and meet deadlines.
Extended tech development teams benefits: Top 7 benefits you should know
An extended team model is more like a compliment to your internal team instead of replacing it. It becomes an integral part of your company, vision and brings diversity. 
Another best benefit of the dedicated extended team is you can deliver projects on time without spending too much time and cost on the tedious recruitment process. 
Here are the top 7 benefits of extended tech development teams. Have a look.
Fill the skills gap

Scalable with project requirements

Remain control

Start fast 

Optimize cost 

Shared responsibilities

Business expansion
The skills gap is one of the crucial challenges for fastest-growing companies. By collaborating with an ETM services provider, you can hire pre-qualified tech professionals with advanced skills. Thus, you can fill the skills gap easily and quickly. 
2. Scalable with project requirements: 
Not every project requires full-time employees, and tech skills vary according to the future scope of the project. Henceforth, companies need a flexible solution that scales with the project requirements. 
In extended teams, you can either increase or decrease the number of resources rather than terminating employees post-development.
Unlike in traditional outsourcing, the extended development team works like your internal team — enabling better project management and control over deliverables. 
Because extended tech development teams work closely with your core team, you can benefit from:

As you don't have to invest in time-consuming recruitment and hiring processes, you can speed up the software development process and deliver projects on time.
With the dedicated development teams, your company will have a competitive advantage in onboarding the right talent and start projects quickly. This further reduces time-to-market and costs associated with it.
Hiring professionals with advanced skills is a costly affair. And, most SMEs struggle due to a lack of budgets and time. Traditional hiring often costs more than you expect and will hurt the entire recruitment and development process.
Whereas, the extended tech development model helps you collaborate with a team of qualified professionals with advanced skills. Moreover, you pay only for the resources utilized on your project. 
6. Shared responsibilities: 
As said earlier, an extended development team is to augment, not to replace your core team. By sharing and distributing tasks among developers, your teams will get more work done in less time — further improves productivity.
In the extended tech development team model, your remote developers will not be juggling among different projects, which is often the case with traditional outsourcing. 
Regardless of your size and budget, you can scale your business through extended tech development teams. For this, you need not hire full-time employees offshore or nearshore. By leveraging dedicated extended software development teams, you can establish your business anywhere across the globe. 
Furthermore, the extended development teams can help you bring cultural diversity and innovation. 


We found most organizations are looking for alternate ways to find talent and build teams as a cost-saving measure, post-pandemic. For those, extended teams have evolved as a go-to solution to build a tech team within their budget.
– said Ajit Manjappara, VP- Product Engineering Services
When do you need an extended software development team model?
Developing a software product amid ever-changing technology needs isn't as easy as we think. As a growing company, you must have a team of developers with advanced tech skills and adaptability skills. 
In reality, however, building a tech development team continues to be a challenge for SMEs. Therefore, collaborating with the extended team services provider can help you bring experience and expertise together.
First, evaluate your internal team and find the tech talent gaps to fill. Here are the top 4 instances you need extended tech development teams. 

Considerably, the extended tech development team model is the best choice for long-term collaborations. The remote extended teams can help when
Your project is still at an early stage, and you don't even have an internal team of developers. 

You plan to add new features like IoT, AI, and VR and struggle due to a lack of expertise.  

You plan to modernize applications with cloud solutions like

NetSuite ERP

and AWS and don't have an in-house team of engineers. 

You struggle to maintain applications in a safe environment post-development.
Finally, if your team is already working on a project and you need additional tech resources to meet your project deadlines, extended teams can give you quick access to required resources.
[Checklist] How to choose your extended development team partner?
Choosing an extended team services provider is more like building a tech team on the other side of the globe. Therefore, you must pay attention before taking a call. 
To make your judgment easy, here is a small checklist on how to choose an extended team vendor. Have a look. 
Check whether the ETM services provider is sharing knowledge or not. Being social and building a strong community are the main pillars to attract the right talent these days. 
There are hundreds of new entrants into the market now. Before choosing an extended tech development team, check their industry recognitions and awards. Rewards and recognitions make a service provider stand out from the competition.
3. Reviews and client references: 
Social proofs are the best ways to check their proficiency and expertise. Check their online reviews and try to get references from current or past clients. Know the process of talent engagement and project management. 
Googling 'extended team services provider near me' only gives you the results with good SEO, not the best ETM solutions provider. In addition to their reviews and case studies, evaluate their team to understand their technical expertise and how best they can help you grow.
Top 5 mistakes to avoid when building an extended development team:
An extended tech team is your on-demand dream team working on the other side of the country or globe. Therefore, you should be wary of choosing a service provider and professionals in your software development extension team.
The USA tech talent shortage is growing steadily and making business owners step up to find the best talent. Here are a few reasons for talent shortage. 
The limited local talent pool

Difficulty in finding professionals with advanced skills 

The cost of hiring and retaining talent
According to the Manpower group, 46% of the U.S. employers reported finding tech talent is their primary concern.
Due to the above challenges, more and more US tech companies have adopted the concept of establishing extended tech development teams. However, collaborating with an ETM services provider doesn't promise you state-of-the-art products. 
On the other hand, if your approach is unclear and expectations are misaligned, the end result could be even more detrimental. And that's why we bring some common development team extension mistakes you should avoid.
1. Thinking short-term production instead of long-term collaboration:  
If you are serious about filling the missing pieces in your core team, you should look at the bigger picture instead of short-term benefits.
If you enter into a collaboration with the mindset of this is a one-time project, you would no longer make the partnership successful. 
Building an extended software development team is more like a permanent solution that ensures the best talent as if you were hiring on-premises employees. 
When you work with a software development outsourcing vendor, typically, you can get access to the best talent. However, developers of your outsourcing team might juggle various projects at the same time. 
With little to no focus on your project, you end up with a substandard software product with no control over the project.
2. Focusing on the cost rather than the value: 
Irrespective of the business, the cost is one of the dominant factors in deciding whether to outsource development or hire an extended team. With some attractive marketing strategies, companies are likely to opt for outsourcing with the lowest costs.
Not surprisingly, this is usually the wrong choice because the lower rates don't guarantee you the best resources on board. Instead, look at the value that remote teams can bring to the table. 
Assess their portfolio, tech resources, and success rate to build a pragmatic extended tech development team.
3. Treating extended teams as a different team: 
Having an extended development team is an asset for your company. It helps in meeting your business goals within the specified time frame and budget.  
While working with extended tech development teams, remember that they're part of your organization sitting in a different office space. Not treating your extended team developer well could bring down their morale, motivation, and in effect, productivity. 
That's why it is necessary to build a management layer between your in-house team and extended team. If you want to get the best out of your extended development teams, include them in important discussions, ask for reviews, and conduct brainstorming sessions regularly. 
4. Unclear expectations and roadmap: 
Signing a contract with an extended software development team doesn't guarantee you success. You must have clear expectations, a roadmap, and a delegation of work among development teams.
To make your collaboration successful, define their roles and responsibilities beforehand, track the deliverables, and communicate timely to ensure transparency.  
Remember, building a remote team of dedicated developers is to free up your core team and devote their time to strategy building rather than revolving around mundane tasks.
It is one of the mistakes many companies commit while establishing their remote extended tech development teams. Companies usually search for low price outsourcing partners rather than the cultural fit.
Let's consider, your company is in the USA, and you partnered with an outsourcing company from a non-English speaking country. 
In this scenario, would it be possible to establish seamless communication among teams? The answer would be unclear. 
So, to ensure better collaboration, choose a service provider that aligns and amplifies your culture. 


To build the workforce post-pandemic, focus less on roles and more on tech skills and attitude. We help organizations build tech teams that can develop state-of-the-art software products.
– said Ajit Manjappara, VP- Product Engineering Services
Why do extended team models beat outsourcing? Extended Teams Vs Traditional Outsourcing
Amid the ongoing tech skills shortage, both hiring and project managers are going the extra mile to establish remote extended teams now. 
They are looking for solutions that can help in building tech teams quickly with advanced skills. Amid the growing tech talent shortage, organizations can opt either for an outsourcing model or an extended team model to fill the talent gaps. 
Let's look at how extended software development teams outperform the traditional outsourcing model. 

1. You will be in charge: 
Even if your offices spread across countries, you can still have control over your teams and bring them to the same page to ensure better communication and productivity. 
Whereas with outsourcing, you have little control over the team and even struggle to communicate with developers directly. 
2. Long-term relationship: 
Usually, companies outsource a small part of their project to an external vendor and terminate contracts post-development. Most businesses consider outsourcing as a one-time project or commitment. 
With an extended team model, you can hire a team of tech professionals and continue the partnership post-development to support you with maintenance and application migration.
3. Prioritization of your project: 
As the outsourcing partner works on several projects simultaneously, your project might not get enough priority. Of course, this is one of the major pitfalls of the traditional outsourcing method. 
With an extended tech development team model, you will get dedicated resources that work exclusively on your project. Therefore, you can get good value for the invested money. 
In traditional outsourcing, the external vendor is not concerned about your business goals and objectives. They usually develop, deliver, and move on to the next project. 
In the extended team model, the remote developers align with your business goals and work as your in-house team. Therefore, you need not worry about productivity and efficiency. 
Project management is crucial for any organization's success. In the traditional outsourcing method, you have to spend more time tracking employees and project status. 
Whereas extended team developers work like your core team, making project management hassle-free across countries. 
Are you planning to hire a dedicated extended development team?
As a growing business owner, you are always busy building product and marketing strategies for business growth. To make your vision come true, you need a tech team with advanced skills. 
Therefore, collaborating with a vendor like Amzur can help you in many ways including, talent acquisition, team building, development, and post-development support.
Take a look at our success story.
Amzur's development approach:
Our approach starts with analyzing your project scope, understanding the future needs and technology requirements. Amzur's tech experts explain the challenges you might face and make you understand the development lifecycle.   
Here comes our technical expertise. Our team of extended developers works closely with your in-house team, shares knowledge, and develops your product with advanced tools to stay competitive. 
Be it Ruby on Rails (RoR) developer, DevOps engineer, IoT developer, UI/UX developers, or QA experts, we ensure you have the best resource on board.
We develop futuristic applications and extend our services to improvise them to live up to future needs. 
Amzur has extensive experience of more than 15 years in building remote working teams that align with your business goals. We have helped several SMEs in the USA through our bespoke extended team services. 
Instead of onboarding a team of full-stack developers, we evaluate and understand the project requirements and build an extended tech team. We are experts in building scalable and efficient software development teams for SMEs and growing businesses worldwide. 
Using our expertise and direct access to a vast talent pool, you can hire dedicated developers as per your needs. Our recruitment team will provide constant support and help you handle challenges down the road. 
Now you've learned everything about extended development teams, how about scheduling a call to discuss your tech talent requirements with our team and understand how Amzur can be your perfect ETM solutions provider?
Hire your extended teams today