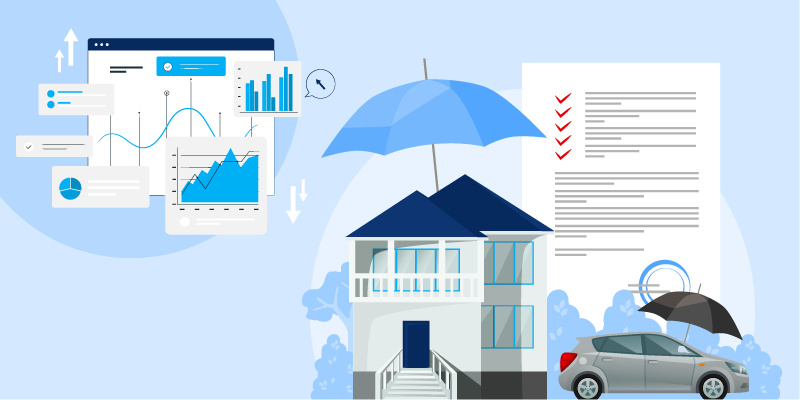 P&C Insurance Business Analysis
Insurance has been facing more digital disruption than any other industry. Are you equipped to compete?
According to J.D. Power's 2018 US Independent Agent Satisfaction Study, personal lines insurers with the highest commission ratios maintain the most profitable operating margins. The same study notes that the independent agents are looking for P&C insurers with a broader risk appetite when they accommodate specialty and unusual risks.
How is technology advancement in P&C insurance lines? Despite the insurance industry's ongoing march toward a digital future, just 5% of brokers rated technology and automation as an important quality when choosing an MGA (managing general agent). If you come to think of it, many buyers believe that their broker or agent is their actual insurance company. Few consumers realize that agents and brokers have financial incentives to increase their own commissions, and because of this they may miss an opportunity to receive a quote from the open market. The insurtech start-ups have been changing that. They have been providing transparency and objectivity into the process by providing company ratings, quotes, and reviews.
Business analysis is a part of strategic planning and it needs to be. Are you in a position to ask how well you are meeting the expectations of your risk manager partners? Do you know what producers' biggest pain points are with their technology? Do you know how well your carriers are meeting industry expectations? Professional referrals for brokers can bring in the best and wealthiest clients. Do you know the market statistics on sourcing professional referrals? Given that insurance business needs analysis so does technology and automation in insurance.
Technology & Automation
"We see a rise in insurance apps," Sam Velu, Amzur VP of Talent Acquisition and Delivery, said in May 2019. "Most of what we see are online, real-time automobile insurance quote comparison apps. They enable users to get instant group auto insurance quotes from multiple auto insurers."
These insurance apps offer a variety of solutions and services within a single integrated platform, including:
White-label client portal for business.

Secure communication.

Unlimited projects and groups.

Customizable workspaces.

Enrollment solutions that employers can call their own.

The ability to bill multiple benefits through one payroll slot.

A full-service employee discount program that features an ever-expanding list of retailers.
How are these apps created and maintained?
In insurance, there are so many variables. For example, commercial insurance will need an ongoing business analysis of domain knowledge in a variety of finance/insurance industries. State-specific insurance laws and compliance clauses are other variables the software and app developers need to catch up with and digest. Then there is the work of documenting requirements, creating and fact-checking database logic, and communicating, both with the developer and the customer. The app makers must act as though they are the voice of the customer, translating business objectives into technical requirements.
First, the project teams will start to construct and analyze data models for custom underwriting software for commercial insurance clients. Then they will need to document dependencies for common Property & Casualty (P&C) insurance underwriting challenges, such as endorsements, appraisals, renewals, new line creation, and recommendations for inspections. They must use correct technical specifications to clarify which fields and inputs should do what process, and they have to design and fact-check logic systems that can account for the nuances of location-based commercial insurance regulations. After all that is finished, the product managers will use interviews, workshops, document analysis reports, surveys, business process descriptions, and other methods to form and analyze requirements for P&C insurance software.
At Amzur, our mobile and web app development teams identify, create and facilitate process design/improvement changes by conducting complex business and systems process analysis and design. We provide and support the implementation of business solutions by building relationships and partnerships with key stakeholders; identifying business needs; determining and carrying out necessary processes and practices; monitoring progress and results; recognizing and capitalizing on improvement opportunities; and adapting to competing demands, organizational changes, and new responsibilities. We not only provide project-level analysis – producing required project analysis documentation (e.g., business requirements, scope matrix, use cases/user stories, future state proposals, UAT plan) – we also develop and maintain an understanding of customer workflows and business needs. We gather requirements and help build and document specifications for development. We work with your business leaders and/or your IT team members to deliver precise functional specifications that include functional hierarchy, workflow, business rules, interface design and definitions, outstanding issues, data analysis, and data mapping. Our extended teams offer direct interaction with clients, including eliciting comprehensive business requirements and use cases/user stories, recommending appropriate solutions, and demonstrating the changes to the system to ensure all relevant business needs are addressed. 
To extend your IT team, we provide your recipe for success.
In an economy powered by innovation, where there are few opportunities to become the second P&C insurance company and/or agency to create a product or a service that disrupts the marketplace, attracting top tech talent isn't just an important thing; it's everything. What if you did not have to attract the top talent to develop your recipe for success? What if you could simply extend your IT team? Let's talk today. 
Amzur Technologies, Inc. has a unique pre-screening tool to qualify and acquire technology talent while following a holistic talent strategy internally. This allows us to offer a rapidly expanding portfolio of services and solutions without being stuck by our own technological or resource-related constraints. We have a working knowledge of the following: Sapien technologies: Policy Center, Billing Center, Contact Manager, Underwriting Management, Data Hub, Info Center, Predictive Analytics and/or Claim Center, etc.