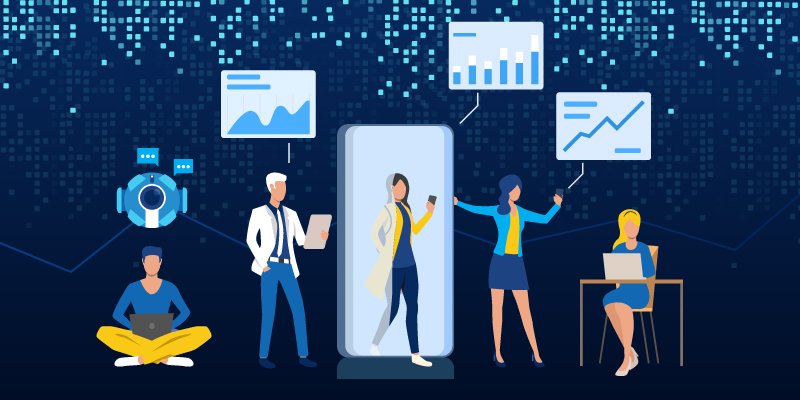 What does the future hold for the technology industry? Some leaders are still figuring that out. Some know, but aren't sure how to get there. One thing is certain: Regardless of whether you opt to focus on connectivity or platform-based services, digital transformation is a must.
In my previous article, I talked about the potential recession. This article is about the future. 2023 is almost here, and with it comes fear and uncertainty in our personal and our professional lives. Jobs. Climate. Healthcare. Politics. Name any trending topic and it likely has worries attached to it. How will we handle these concerns in the new decade? Will things get better, or worse?

Few feel the weight of this question more than those of us working in technology industries, where hiring and management decisions have a huge impact on the world for years to come. Look at companies like Apple and Amazon. At the end of the last decade, they took an economic downturn and used it as an opportunity to bolster their new devices and ecommerce systems, transforming the digital economy.

When we consider those changes, all the difficult choices waiting up ahead—in fields ranging from insurance to healthcare—also come with a generous helping of hope. The potential for technology to improve our lives has never been greater. So, as 2023 kicks off, keep your eyes on the future.
Setting a Vision for 2023 and Embracing Change
Without setting your vision, it is difficult to build and maintain a roadmap toward evolving your business and bringing in new digital capabilities.

Embrace cloud, embrace the deployment of APIs, embrace new working practices that come out of microservices, moving them toward more agile DevOps. By embracing those new architectures, you position yourself to make that transition and empower others to do the same.
The Social Power of Commerce
Social media is reshaping communities around the globe every day. How we communicate, how we think, how we act. Even how we transact with businesses and one another. You should be realistic about what's going to happen in the near future in terms of how big your platform business might become. Is your business on social media? Are you selling on social media? If you aren't now, you will be.

Facebook Pay is the latest example of the power of social to initiate progress. This new payment system lets users send money securely via a unified platform across all Facebook apps, including WhatsApp and Instagram. What first appears to be one more step in a gradual digital money trend, however, is actually much more than simply the next-gen Paypal. By showing that multiple brands and platforms can be unified under a single, easy-to-use system, Facebook has shown what's possible for the future of online payments. 

What is your money intake? Is it from non-core services, such as cloud, internet of things (IoT), ICT, media, payment services, etc.? Unified online banking will become doubly important as we throw artificial intelligence (AI) and deep learning into the mix, which is going to happen more and more. As these systems learn, our lives get simpler and more secure. It's just one more step toward a cohesive ecosystem for our increasingly digital economy. And AI is only going to become bigger and bigger part of it.
Picture this: Sometime in the next decade, your payroll system becomes obsolete. Maybe a patch introduces too many bugs, or a security vulnerability risks exposing employee information. So you decide to make the switch to a new platform. What if one already existed, ready to use, that could seamlessly integrate all your professional banking systems with your employees' personal ones? That's the power of AI-driven systems.
AI for Revolutionizing Industries
AI is nothing new in theory, but when you consider the leaps and bounds it's taken in the last 10 years—and could take in the years to come—it's nothing short of amazing. But, when you look at platform businesses, many successful examples haven't known how they were going to monetize over a long period of time. In insurance, for example, I'm seeing more companies embrace new learning tech than ever before. This industry is preparing to become a technological powerhouse. Are you prepared to stand in front of your investors and talk about moving into platform mode when you don't know what your revenue will look like in the future?

Most insurance companies are making the switch to online dashboards and customer interfaces, and some have even gone fully online, with easy-to-use apps that allow users to select and purchase plans within minutes. As AI and connected learning machines become more commonplace both within companies and with consumers, however, insurance models should begin to shift from reactionary to predictive. 
Imagine self-driving cars that can predict and avoid auto accidents, or in-home IoT devices that can prevent fires or flooding. Think of the lives and dollars that will be saved by improved healthcare technology. If insurers adapt to and even facilitate these changes, the bounty could be tremendous for companies and customers. 

If we look at this from the perspective of the developer, you need to have that software expertise to understand what developers need from you to make your platform business, your enablement, and your ecosystem strategies look attractive. For you and your business to adapt to future trends, you will need the experts to develop proactively. 

You need flexibility and agility to change course. Don't fear it. When we look at the most successful tech leaders, often it's a process of changing course: going in one direction, learning from mistakes, and moving in another direction.
Hiring for Tech Can Save Lives
All this new technology isn't only going to help people in the hands of insurance companies, of course. It's already filling hospitals around the world, thanks to companies like Amazon, which are leading the charge to update healthcare spaces with learning machines. These may include devices that perform predictive analyses of patient health, ensuring people get the correct treatment when they need it to save and prolong our lives, but it can also help with hospital administration, saving the healthcare industry billions each year.

But as new technology becomes more ingrained within each of these industries, so will industry professionals require more knowledge and expertise. If machine learning and AI become integral to working in insurance or healthcare, does that mean every person working in those industries must become an expert?

Not necessarily. Many third-party staffing firms are poised to help. Amzur, for example, uses its own innovative interviewing and reporting technologies to build vast networks of qualified tech professionals—and interviewers trained to find you the best tech professionals out there. We're already working to stay ahead of the curve, just as everyone should be as we sprint toward the new decade.

They say "hindsight is 2022," but now is no time for looking back. Keep your eyes forward, with us, and I'd wager we'll see some amazing things in the next 10 years of tech.
About Author
Sam Velu, Head of IT Talent Acquisition at Amzur Technologies, is an industry veteran with over 20 years in the staffing business. At Amzur, Velu specializes in promoting high-quality and high-value technology services that optimize business growth. He values community and economic advancement, as shown when he served on the Hamilton Business District in Franklin, New Jersey, to attract new businesses to invest in the city.