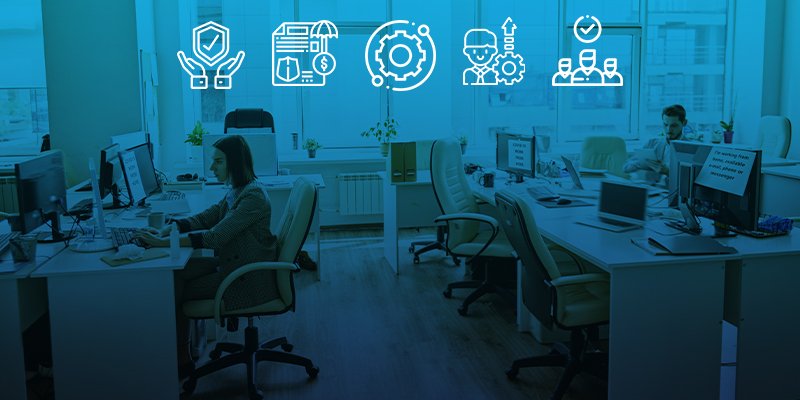 The global business community is in a state of transformation. With the sudden disruption due to Covid-19, businesses are spearheading to revamp their continuity plans to stay competitive. The rapid adoption of digital transformation has raised the need for tech resources across industries, including the insurance industry.
According to Jacobson's report, technology roles were reported as the greatest need for insurance companies in 2021 . However, talent gap assessment and finding tech resources have become daunting challenges for many growing companies — further making insurance industry talent acquisition difficult. 
The report also states that about 18% of insurers surveyed are currently on or anticipating a hiring freeze, compared to 37% of organizations on hiring freezes across all industries.
What does it mean for the insurance industry hiring?

Regardless of the economic slowdown, talent acquisition in the insurance industry remained stable and comparatively growing. With the ongoing digital transformation and technological advancements, the insurance industry is hiring for skilled resources to meet its evolving tech needs.

Technology is transforming the insurance industry:

With the advancement of various technological tools, the insurance industry is infusing technology right from database management to customer acquisition and marketing automation. As customers are transforming to online, insurers are striving to build websites and mobile apps to have a competitive advantage over others. 
With these technological advancements, the insurance industry is already witnessing positive outcomes. Unlike legacy business models, technology-driven insurance businesses are growing at a speed and scale. 
Technology is transforming the insurance industry in numerous ways. It is providing new means of handling data, controlling operations, and predicting future growth. Apart from the benefits, the technological advancements are making the insurance industry talent acquisition a bit challenging.
Growing tech roles in the insurance industry:
Automation will accelerate the shift in required workforce skills we have seen over the past decade. To comply with the transformation, companies will need to make significant organizational changes to hire and retain tech talent. 
According to a McKinsey report, demand for tech talent would rise by 55 percent by 2030.
In the insurance industry, the emerging tech roles have already had a significant impact on back-office operations, including customer care centers and input data processing. Surprisingly, the study found, there is a correlation between business performance and tech talent. The greater the proportion of digital talent a company has, the more productive and profitable it is. 
Growing tech roles encompass:
Data analysts 

Predictive analysis

Machine learning and AI experts

Cybersecurity and information security experts 

Application design and development experts 

IT infrastructure and deployment 

Digital leaders
How to address the insurance industry's talent crisis:
The insurance industry is facing a talent crisis amid an unprecedented shift. The talent acquisition challenges are due to:
A quarter of workers in the sector are expected to retire in the next few years

The emergence of tech roles and acquiring the right talent 

Millennial employee retention due to their inconsistent nature
Promote upskilling:
Yesterday's technologies might not be a good fit today. Upskilling is one of the best ways to combat the tech talent crisis in the insurance industry. To make it happen, companies have to focus on internal mobility and upskilling their employees. Moreover, upskilling improves employee engagement and retention.
Addressing the technological skills shift:
The insurance industry is now leading by automation and data analysis. These technological transitions are paving the way for a one-click purchase of insurance, customer management, and improving customer experience — further raising the demand for professionals with advanced technology skills.
So, companies must emphasize skilled tech talent acquisition strategies to align with their organizational needs.
Hiring Millennial and Gen Z workforce:
Millennials and Gen Z are the new generation workforce expecting to lead the insurance industry soon. Comparatively, they are well-versed with technology and adopt at lightning speed. Therefore, making millennial hiring a core hiring strategy allows you to attract and engage the new generation.
Would it be possible for SMEs to hire skilled tech professionals within their geography, budget, and time? Most SMEs' answers are uncertain. Then how can SMEs overcome tech talent acquisition challenges? 
Role of IT staffing solutions in the insurance industry talent acquisition:

Bringing experienced professionals into your team is pivotal to gain a competitive advantage in the user-dominated and technology-driven market. However, due to lack of a process and inadequate resources, Insurtech companies face challenges in reaching, nurturing, and hiring top talent.
Rather than rigid staffing strategies, flexible IT staffing solutions can help you hire skilled tech talent at a speed and scale. 
Let's look at the top benefits of collaborating with an IT staffing company.
1. You can gain a competitive advantage:

As the demand for tech resources is growing enormously, an IT staffing company can help you with pre-screened and pre-qualified resources that enable you to kickstart your project immediately.
Further to regular hiring practices, a few IT staffing companies leverage video interviewing platforms to make the recruitment process transparent and effective. 
2. Employee retention can become easy:

Employee retention is one of the major factors that contribute to the success of an organization. On the other hand, it is one of the biggest challenges for growing companies. Unlike in a traditional hiring process, working with an IT staffing company can improve employee retention and strategize contingent staffing models to ensure business continuity regardless of unprecedented disruptions. 
3. Right fit at the right place:

Hiring a resource just to fill the open position doesn't guarantee you productivity. It requires extensive research and screening. While many SMEs fail at various phases of the recruitment life cycle, they would end up with bad hires.
Whereas an experienced insurance IT staffing company can help you in hiring the best resources. Further reduces the cost of a bad hire and team morale. 
4. Get access to specialists:

The need for data analysts, cybersecurity, AI & ML experts, and app developers is growing higher than before. This further challenges SMEs with limited internal resources and talent pool. Therefore, working with an IT staffing company can help you get skilled professionals of varied experience and expertise. 
As they maintain a large pool of verified experts, it can make your selection process easy and quick.
Would you like to learn how to solve the hiring challenges in the insurance industry?.
Amzur's insurance industry talent acquisition solutions:
As a specialized insurance IT staffing company, Amzur can help you with flexible staffing models. We can advise you on what mix of experts you need, including permanent, temporary, or contract-to-hire. 
We are more than a staffing company. As a leading tech company, we understand the challenges of growing companies and deliver staffing solutions to navigate uncertain times. Our hiring process includes interviews, technical skills evaluation, and scoring according to their performance.  Further to it, Amzur's recruitment process is empowered by a modern video interviewing platform to cut down unnecessary steps in the hiring life cycle.
Our team of 1000+ certified IT specialists and consultants from various disciplines enhance candidate experience through an intuitive hiring process. Whether you are looking for a data scientist, app developer, QA specialist, DevOps engineer, or AI & ML expert, Amzur can source experts with proven experience and skill set.
We offer cost-effective and flexible staffing solutions for companies of all sizes in the USA. In the rapidly changing business landscape, Amzur's IT staffing services ensure you have the best resources at every division of your tech team.
Want to know various staffing engagement models and how they can help you bring the best talent on board? Get in touch with our team to get a free assessment for your staffing needs.