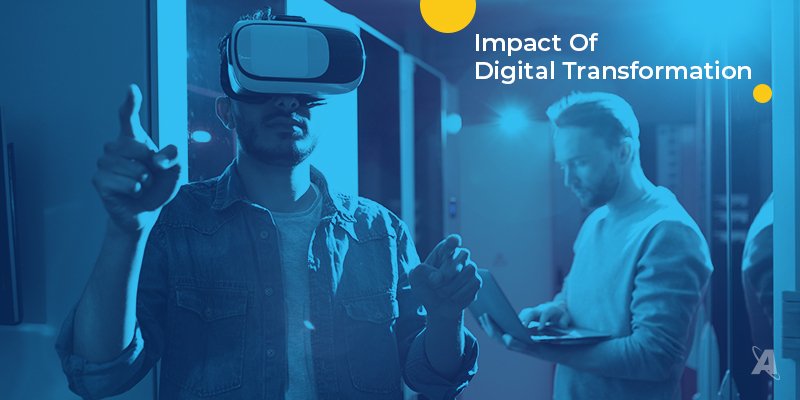 Do you know more than 80% of businesses striving toward digital-first strategy post-pandemic? Have you ever thought of what is the digital-first culture and its impact on the business? If not, it's time to think and embrace modern technologies to ensure you have the best business strategy to navigate uncertain times. Digital business transformation has become a buzzword amid the pandemic and raised the emergency to embrace it. 
What is a digital-first strategy? 
A digital-first strategy is a term with a pretty self-explanatory meaning — companies are striving to embrace modern technologies to achieve flexibility and agility. 
Digital transformation strategy or digital business transformation emphasizes the significance of technology to embrace digital/ cloud solutions to achieve transparency and improved productivity.
Summary:
This blog covers,
Impact of digital transformation technology on the traditional operations

Top benefits of digital transformation

Impact of digital transformation strategies on business processes

Questions to ask before embracing digital transformation

How does digital transformation impact customer experience?

What are the gaps digital transformation can fill?
Does digital transformation replace traditional operations?  
It is one of the common digital transformation myths. In reality, digital business transformation (DX) doesn't eliminate a few processes like maintaining records and manual operations. Instead, it automates tedious tasks to save time and cost. Therefore you can devote your time to business strategy building and revenue generation. 
For example, even though companies leverage social media and digital marketing platforms, they still rely on traditional marketing methods to stay intact with their target customers.
In the current fast-paced era, digital technology transformation acts as a catalyst to make your business stand out from the crowd. In a nutshell, digital technology transformation strategies offer the following benefits for companies
Personalization

Transparency 

Improving human interaction 
Furthermore, digital business transformation strategies primarily focus on three aspects including,
Embrace new digital tools to streamline and automate operations.
Embrace new digital tools to streamline and automate operations.
User behavior evaluation to personalize its approach with improved human interaction. 
6 best benefits of digital business transformation:  
The digital technology transformation is rapidly becoming a standard across many business environments. So, without a digital-first strategy, you are likely to fall behind the competition and eventually struggle to grow. On the other hand, digital transformation strategies will often lead to the following benefits.
Enhanced branding

Increased operational range

Improved security

Improved data access

Streamlined marketing

Strengthened competitor analysis
With modern digital solutions, you can get an omnichannel experience and engage with your potential customers — promising improved branding. Digital transformation will bring all digital platforms under one roof and give you an intuitive and seamless experience. The more your business appears on digital platforms, the more you would get ideal customer attention. 
2. Increased operational range:
Are you planning to expand your business now or in the future? Then, digital automation strategies help you grow beyond boundaries without any hassles. As digital business transformation allows you to choose modern technology tools, you can expand your business across the globe without investing in dedicated infrastructure. 
Security is crucial for any business. Digital business transformation strategies help you avoid data duplication and data redundancies. Further, improve data security with modern protocols.  The cloud solutions are encrypted and scrambled. So, it is far harder for cyber criminals to access cloud solutions compared to traditional infrastructure. 
The first benefit that you would get with digital transformation is real-time data accessibility. Yes, cloud solutions enable you to access data from anywhere to make well-informed decisions. In the current data-dominated era, embracing digital business transformation strategies help you convert the information into actionable insights. Thus allowing you to revamp the existing strategies. 
5. Streamlined marketing:
Digital technology transformation strategies focus on data-driven marketing and marketing automation. Hence, you can personalize marketing efforts for better customer engagement and retention. In recent years, you might have heard about account based marketing. It is a growing and powerful trend in reaching and enticing customers. The more you personalize, the more you can get from a customer.
6. Strengthened competitor analysis:
In the fast-paced marketplace, competitor analysis is imperative to understand other's strategies and how they are approaching customers. Digital business transformation techniques allow you to do competitor analysis that further helps you revamp existing marketing strategies. 
Impact of digital transformation strategies on business operations:
Organizations are investing and adopting digital business transformation strategies at an unprecedented pace. Because of these efforts, digital technologies are increasingly accelerating a few business operations like data acquisition, processing, and analysis. Many organizations have already evolved from the first phase of transformation and are thinking, what is next? 
Forward-thinking business owner/ C-level executives are evaluating their current digital strategic plans and preparing for the next phase of business transformation.
Being ahead in embracing modern cloud solutions, companies can expand their digital capabilities, make intelligent decisions, and create highly personalized experiences. 
Let's look at the impact of digital business transformation strategies on your business. 
1. Streamlines the process:
Digital transformation brings unique opportunities for businesses by cutting down data silos. Further makes data available across the organization for efficient decision-making. 
By adopting modern cutting-edge technologies, you can optimize the time being spent on tedious tasks such as data collection and processing. Digital transformation technologies save your time while maximizing productivity. 
2. Improves customer experience:
In digital transformation, the customer is the hero. The more you know about a customer, the more personalization you can offer. With a digital business transformation, you can track customer behavior in real-time and revamp strategies to stay intact with their evolving needs. 
As data analytics become strong and collaborative, the information flow has become handy and intriguing. So, you can build customized strategies to make your customers more engaging. 
3. Provides more flexibility and efficiency:
Traditional or legacy applications are rigid and not adaptable. Considerably it is one of the hindrances of business growth. While digitalization strategies embrace cloud technologies and tools, you can eliminate redundant tasks and costs associated with them. 
Comparatively, companies running on modern digital transformation technologies are adaptable and productive. Furthermore, the digital workplace will ensure you can grow exponentially faster and stay ahead of the competition. 
As technology is volatile, your company should be ready to face any unprecedented changes in the future. Digital transformation strategies promise you the best business backup plans and allow you to adopt changes quickly. 
4. Increases speed to market:
Along with product development, its marketing is imperative to gain the market's attention. With digital business transformation strategies, you have data ready and workflow automation to understand the market needs.
On the other hand, businesses integrated with social media platforms can easily understand user behavior and get feedback to revamp their strategies. So, you can leverage the best-performing marketing channels to optimize your budgets. 
Despite the scale, every business made remote working a norm rather than a strategy. With the digital revolution, the surge of digital working has increased enormously in recent years. Digital transformation tools will bring employees around the globe together and create a cohesive culture. 
As the workforce experiences digital business transformation, they can learn new technologies and become contributors to the digital transformation journey. Digital transformation, on the other hand, instills confidence in employees and improves their performance. 
What are the questions to ask before embracing digital transformation?
Be it development, marketing, operations, security, and research, digital transformation will help you optimize your time and budgets greatly. But incorporating digital technologies takes time and effort. 
To make your digital business transformation hassle-free, have a sound strategy and team before you jump into the action. Take a breath and think a big picture of digital transformation that 
How can it help you achieve long-term business goals?

Does it add value to your customers? 

How quickly it disrupts the market and gains a competitive edge?
Impact of digital transformation on customer experience:

he purpose of business is to create a customer
So, to win the competitive games, make sure you know more about your customers and personalize your approach. With Covid-19-induced circumstances, customers became tech-savvy and often want their needs to be met instantaneously. Customer requirements are evolving year on year with the induction of modern technologies across industries. 
The digital-age customers are looking for seamless communication, 24/7 support, absolute transparency, and a unique experience. 
What does it mean for your business?
Customer expectations continue to evolve due to digital transformation happening at a fast pace. So, to stay relevant and comply with the market needs, businesses have to go the extra mile and be creative. 
1. Technology and customer experience:
Gone are the days, where customers had to visit physically to avail any services or buy a product. And, the personalized customer experience ends once a customer leaves the shop. Here comes the real challenge with the extended customer experience and nurturing. Traditional businesses struggle to track their customer feedback that helps to revamp the existing strategies.  
With the evolution of the internet and sophisticated digital platforms, customers have become intelligent and have changed their buying strategies. A good business knew its customers by name and by their tastes. Further, it personalizes the marketing approach. 
Today, customers are everywhere and searching for the best solutions provider for their challenges. Given this, businesses had to embrace omnichannel strategies that offer an inclusive customer experience by leveraging modern technologies like AI, ML, and chatbots.
Data from Statista shows that between 2020 and 2024 the global investment in digital transformation will almost double. 
The Covid-19 triggered new hybrid business models that enormously changed the customer behavior from regular purchases to subscription-based models.
NetFlix is one of the best examples in recent times. The company offered a subscription-based model to reach more people and engage them. Of course, numerous companies leveraged modern cloud solutions and digital transformation methods for a better customer experience and retention. 
How is it possible for companies to nurture customers throughout their journey?
The answer might be simple and yet powerful. Data is the key in the modern technology-dominated era. With the evolution of AI and ML technologies, businesses are tracking their customer journey to create more meaningful brand-client relationships. This further helps in achieving mutual value down the line. 
2. Reasons to focus on customer experience:
A customer journey consists of various phases. So, offering a seamless experience throughout the journey is vital in scaling your business. Moreover, CX can make or break relations with your business — further simplify decision-making time. A happy customer is more likely to engage with a brand and creates more revenue.
In the foreseeable future, the customer journey analytics market is expected to reach

$26.88 billion

by 2026. 

According to

AI Multiple

, a happy customer brings 2.6 times more revenue, while 32% of customers leave the brand due to one bad experience.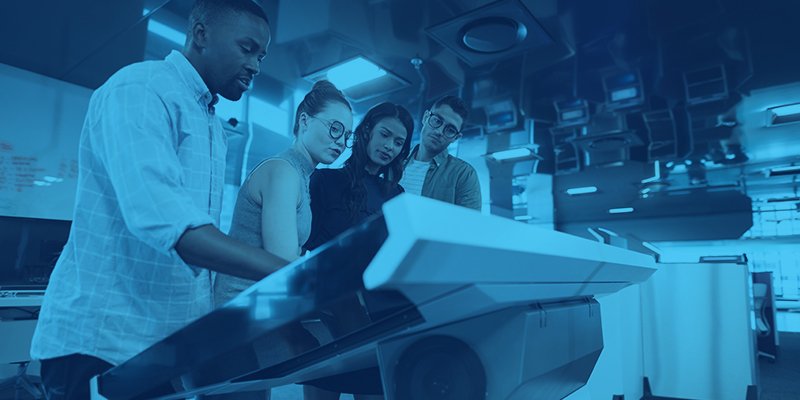 Amzur's digital transformation implementation services:
Digital business transformation has become a mandate for businesses to navigate uncertain times and overcome unprecedented challenges. Digital strategies aim to bridge the gap between your business and evolving customer needs. It further enhances your business operations by converting data into actionable insights. 
Digitization strategies will keep your business ahead and agile. Rather than inventing the wheel, digital transformation implementation will bring a paradigm shift in business operations, workforce management, and customer experience.
If you are planning to fuel your business growth and searching for a trusted digital transformation solutions company, Amzur is here to help you now. We have more than 15 years of experience in understanding business objectives and customizing digital transformation strategies. 
Whether your's is a B2B or B2C, we've got futuristic solutions for you. Our team of digital transformation experts evaluates your business needs and bridge the gap between your
IT and business 

Streamline information and communication flow

Existing and new technologies

Business and customers 

Intent and achievement 

Risk and certainty 

Expectations and reality
Are you still unclear about the digital transformation journey and the benefits it can bring to your business? Block your calendar for a 30 minutes consultation call.
Discuss your digital transformation project today
Get started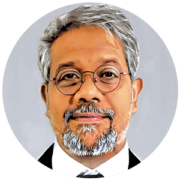 Author: Ganna Vadlamaani
President & CEO – Growth Markets
Driving strategic growth initiatives, fostering innovation, and leading high-performing teams for impactful business expansion.