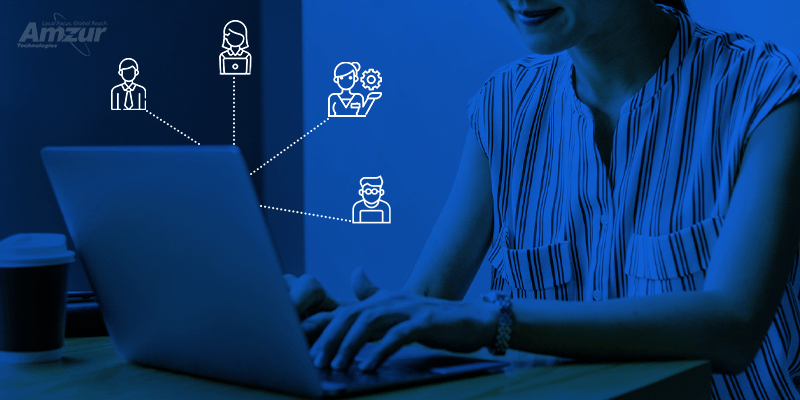 The world has advanced in many ways over the past few years in shaping how we work and collaborate. Remote working and flexible working have become predominantly popular over the past couple of years to minimize infrastructure cost and get access to the best talent beyond boundaries.


A mere 30 years ago, the average company would have never considered hiring an employee remotely that they would never see in person.
– Sam Velu, Director of Key Accounts, eTeki
With the ongoing technology evolutions and talent shortage, most of the companies are leveraging remote workforce strategies to ensure better productivity, employee, and employer satisfaction. Therefore, collaborating with a trusted technology partner with proven expertise in offering remote development services can help businesses in developing applications within their budgets.

Amzur is a leader in building remote workforce strategies with more than 15 years of industry experience in serving businesses of all sizes. Our remote development teams are equipped with experienced software developers, app developers, UI/UX developers, QA experts, and project managers to ensure you are at the right place to build your next application.
Did you know Amzur also offers an hour free consultation service for business owners striving to build remote working teams? If you want to grab it today and build your next remote development team, get in touch with our technology and talent acquisition experts.
Software companies are planning for WFH:
Disruptions are inevitable, and companies that are unprepared to handle them would lose business opportunities and put their team at risk. Many companies are learning from the ongoing scenarios and leveraging remote workforce strategies to gain a competitive advantage over peers.
Google and Facebook told employees that many workers who can do their jobs remotely should plan to do so until 2021. – Source
Considerably, virtual or remote working teams have become a hiring strategy for many startups, small, mid-size companies (SMEs), and even for established firms. 
Disasters could happen across the globe or within your geography. Adopting a remote work strategy with the right set of remote team management tools will result in business continuity nevertheless of the disruptions.
Top factors driving the businesses to embrace remote workforce strategies:
Despite the disasters and unforeseen outbreaks, such as the Coronavirus pandemic, there are various factors driving the businesses in establishing a distributed workforce. Let's have a look at the few reasons below:
Talent shortage due to dynamic changes in technology trends

Cost of hiring resources

Lack of project-specific skills in teams

Millennial and Gen Z impact on the current workforce 

Scaling your business to other parts of the world
According to the latest Gallup State of the American Workplace report, engagement levels increase for remote workers, so remote team management is less of a challenge. Gallup's study shows that remote workers are slightly more engaged (32%) than office workers (28%).
Remote work strategy for small and mid-size (SME) businesses:
The advancements in technology have changed the face of startups and small to medium enterprises (SME) significantly in recent times. Despite the budgets and talent shortage, most of the SMEs are implementing a remote work strategy to attract top-tier talent anywhere in the world. 
Over 70% of the companies offer flexible work culture — and a few are revamping their policies to ensure work-life balance and improve productivity. By incorporating the remote workforce strategies, most of the SMEs report they are investing in technology — that couldn't be done earlier due to significant office expenses. 
Want to build a remote working team?
Is it the right choice and time for you?
The Covid-19 outbreak has taught many lessons for business owners around the globe. It disrupted the way of handling internal teams, collaborating with clients, and scaling businesses further. 
Building a remote team within a geographical location can be challenging, and building it in the offshore location can be even more complex. If you own a startup or SME, adopting a distributed workforce is the need of the hour. Here are the top 3 factors driving startups and SMEs embrace remote workforce strategies.
1. You want to build a team for your startup fast:
You don't hire a team overnight, not even over a week. Especially when you are struggling with the limited talent pool, hiring resources can be challenging and time-consuming. If this is the case with your startup, having a virtual team could help you in achieving business goals. 
With a remote team in place, you can have access to top talent outside of your geography and can start working faster than a traditional in-house team.
Over the last five years, the remote workforce has grown 44% and over the previous 10 years, 91%.
2. You have a specific project or product that should be completed fast:
Though you have an internal team with all expertise, sometimes it's hard to find and hire resources with few specific skills. This, in turn, will impact your project deliverables and even put your team under pressure. 
When all the team members are busy with your main project, a remote team or virtual team will help you in developing a specific product or module without the need for full time hiring. You can continue or break the contract post-development.     
3. You have a limited budget and, you want the best quality:
Budget is the main concern for many startups and SMEs. Hiring resources within the geography and budget are quite challenging these days. Therefore, having a remote workforce strategy will unlock numerous choices for businesses to choose from a large pool of talent.
It will significantly reduce hiring costs, time, and start your project as quickly as possible. On the other hand, distributed teams or remote working teams ensure you have the best talent in place and meet your requirements.
Expand your business opportunities with remote working/ distributed teams:
Remote work management has become quintessential to combat with the current ongoing downtime and unexpected future disruptions. So, working with a trusted and experienced offshore remote team service provider will flourish work culture and meet business goals. 
Want to capitalize on remote/distributed teams and gain competitive advantage? Know how Amzur has helped one of our clients Khameleon with remote workforce strategies.
Mr Doug Angelone, President, Khameleon Software has explained how Amzur helped them in bringing right resources and enabled the application development with the best technology. 
Click here to know more about Khameleon Software success story.
Are you looking to hire developers? Amzur provides high-performing, on-demand teams of developers for leading brands. At Amzur, we have over 15 years of experience in building remote teams and delivering the best results. 
We customize our approach to build a virtual workforce by leveraging modern remote team management tools and practices. We blend our experience and expertise in managing remote teams and ensure you made the right choice. Our remote workforce strategies allow you to focus on core business activities rather than on mundane tasks.