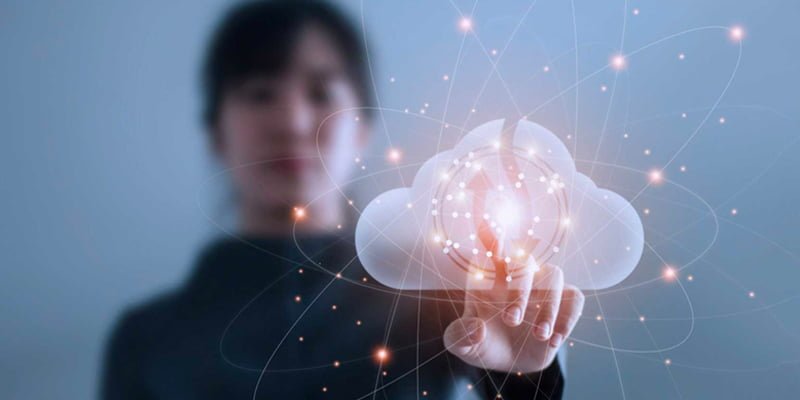 Technology is omnipresent and an intricate part of our daily routine.With the advent of cloud technology, solutions and services have become even more accessible at one's fingertips. Cloud solutions have significantly reduced the time and cost spent on application development, deployment, and maintenance. 
In this fast-paced digital era, customers need applications that are responsive, secure, and scalable. Cloud computing solutions ensure on-demand delivery of computing power, database, storage, and underlying IT infrastructure via the internet with a pay-as-you-go model. 
Zoom and Netflix are the best recent global examples during the pandemic. The services were used by all ages and industries during the pandemic and even became an innate part of our routines post-pandemic. 
Are you thinking of adopting cloud computing solutions? Then, you are already halfway through your journey. Now, it's time for you to select the best cloud services provider to meet your evolving business needs. 
Primarily, there are four major cloud services providers on the market. 
Microsoft Azure 

Google Cloud Platform (GCP)

IBM
Market share of cloud services:
Why are AWS cloud computing solutions winning over the other cloud services providers? The reasons could be numerous. This blog covers the best features and benefits of AWS cloud solutions and how they help small businesses grow.
AWS cloud is a comprehensive enterprise cloud solution provided by the world's leading eCommerce giant, Amazon. AWS is one of the world's most popular and adopted cloud platforms. It offers over 200 fully-featured services for all kinds of businesses across the globe, allowing them to become more agile and innovative. AWS cloud computing solutions are the go-to choice for many fastest-growing startups and SMBs due to their flexibility and affordability. 
Every business has unique requirements, and they need cloud services to meet them. AWS cloud computing services comprise IaaS, SaaS, and PaaS solutions, and enterprises can choose according to their requirements. 
Learn more about types of cloud solutions and their features. 
AWS offers different tools and solutions for enterprises and developers to bring agility into business operations through the pay-as-you-go model. This, in turn, helps with achieving around-the-clock high scalability, security, and availability of business operations and data. 
Why do businesses choose AWS cloud computing solutions? 5 reasons to choose AWS cloud
Before getting into the details of AWS cloud solutions features, let's look at what enterprises expect from cloud computing solutions in 2022 and beyond. 
Here are the top 6 expectations that CIOs have for managed cloud solutions.
Scalability. 

Mobility and availability.  

Less trouble in application management. 

Compliance and security.

Remote data backup and disaster recovery. 

Cost efficiency.
Now, let's dig deep into the factors that make AWS cloud computing solutions unique and the most common go-to solution.
1. Availability of more functions
AWS has a significant number of services – over 200 – and more features within those services than any other cloud services provider. AWS cloud solutions provide users with flexible and on-demand infrastructure, computing power, storage, and databases.
On the other hand, modern technologies like Artificial Intelligence (AI), Machine Learning (ML), Data lakes, analytics, and the Internet of Things (IoT) make AWS a comprehensive and cost-effective cloud solution.   
AWS cloud solutions offer the deepest functionality within the available services. For example, AWS has a wide range of databases that an enterprise can choose from such as Oracle, SQL Server, PostgreSQL, MySQL, and MariaDB to handle applications for a seamless experience. 
Along with the above databases, you can choose from Amazon Aurora, Amazon DynamoDB, Amazon ElastiCache, and Amazon RedShift, for example, to make it easier for data scientists to perform Business Intelligence (BI) operations. 
2. The largest community of customers and partners
AWS has the largest and most dynamic community, with millions of active customers and thousands of global partners. It serves every industry and every size organization, including startups, enterprises, and public sector businesses, allowing everyone to leverage the power of AWS services to the fullest.
The AWS partner network (APN) also includes thousands of systems integrators and independent software vendors who adapt their technology to work on AWS.
Cloud solutions are all about trust, and it comes with the security provided by the vendor. AWS cloud is considered the best and most secure cloud environment available today. Its core infrastructure is built to meet all the security and compliance standards of all enterprises across industries. AWS supports over 90 security standards and compliance certifications and all 117 AWS services that store customer data in an encrypted form.   
4. Fastest pace of innovation
Innovation is the heart of any organization these days. Therefore, there is a growing demand for modern technologies like AI, ML, and analytics across business operations. You can use these technologies to transform your business landscape and stay ahead of the competition. AWS solutions are also innovative and platform-specific, giving a winning edge to its users. 
For example, in 2014, Amazon introduced the AWS Lambda platform, allowing developers to run their code without provisioning or managing servers. Amazon SageMaker, meanwhile,  is another innovative tool from AWS that lets developers and scientists leverage machine learning operations without any previous hands-on experience.
For over 16 years, AWS has evolved as a secured, scalable, and matured cloud platform for businesses of all sizes around the globe. AWS custom applications and services ensure you can meet your evolving business needs.
Top 9 features and benefits of AWS cloud solutions
AWS comprises more than 100 services and various functionalities related to computing, storage, database, infrastructure, application management, and security.
AWS provides services through dozens of data centers spread across the world. Amazon Elastic Compute Cloud (EC2) is a service that provides virtual servers for computing. 
Amazon Simple Storage Service (S3) provides scalable object storage for data backup, collection, and analytics. Amazon Elastic Block Store provides block-level storage volumes for persistent data storage when using EC2 instances. 
Amazon Elastic File System offers managed cloud-based file storage. AWS Snowball, Snowmobile, or AWS Storage Gateway all enable on-premises apps to access cloud data.
3. Database and data management
Amazon Aurora provides a relational database management system for AWS users. Amazon DynamoDB offers managed NoSQL databases for users. 
Amazon ElasticCache and DynamoDBs can be used as in-memory and real-time data caches for applications.
4. Migration and hybrid cloud
The AWS Migration Hub provides a location to monitor and manage migrations from on-premises to the cloud. Once in the cloud, EC2 Systems Manager helps your IT team configure on-premise servers and AWS instances. 
An Amazon Virtual Private Cloud (VPC) gives an administrator control over virtual network operations and provides an isolated section of the AWS cloud. Elastic Load Balancing (ELB) can help you balance the network traffic. 
Amazon Route53 helps in routing end users to applications, and AWS Direct Connect establishes a dedicated connection from the on-premises database to the AWS cloud. 
Developers have flexibility in leveraging AWS tools to develop and manage applications. They include
AWS Command Line Interface

: Amazon's proprietary code interface.

Powershell:

To manage cloud services from Windows environments.

AWS Serverless Application Model:

To simulate an AWS environment to test Lamba functions.

Amazon API Gateway: To create, manage, and monitor custom application program interfaces.
7. Security and governance

AWS cloud computing solutions are secure and always comply with geographic-based standards to deliver the best customer experience.
AWS Identity and Access Management
It allows admins to define and manage user access to resources.
AWS Directory Service
It helps you connect the existing Microsoft Active Directory with Amazon Cloud Directory.
Amazon Inspector
Amazon Inspector checks vulnerabilities that impact security and compliance.
Amazon Macie
It uses Machine Learning technology to protect sensitive data.
8. Artificial Intelligence:
This is one of the reasons why AWS cloud computing solutions stand out from the crowd. AWS has been ahead in embracing modern technologies like artificial intelligence to deliver improved customer experience and productivity. 
Amazon Lex:

Voice and text chatbot technology.

Amazon Polly

: Text-to-speech translation.

Amazon Rekognition

: Image and facial analysis.
With the growing demand for connected devices, IoT technology has become significant in recent times. AWS has a variety of services to support the growing demand for IoT deployment.
AWS IoT

: Provides a back-end platform to manage IoT devices and data ingestion to other AWS storage and database services. 

AWS IoT Button

: Provides hardware for limited IoT functionality

AWS Greengrass: Brings AWS compute capabilities to IoT devices.
AWS cloud computing solutions pricing models: Cost of AWS Cloud Adoption
As said earlier, AWS is one of the best and most cost-effective cloud services available in the market. The AWS cloud solution pricing models are more flexible, and you can choose among:
Per-hour basis.

Per-second basis.

Prepay and get some discounts.

Sign up for one or more years for cost optimization.
If you can't afford the costs, then AWS Free Tier is another possible avenue to explore AWS cloud services. With this AWS Free Tier, you can access up to 60 products and can start building using the AWS platform.
AWS Free Tier is available in three modes. 
Always free.

12 months free.

Trial periods.
AWS cloud market share growth stats:
Let's take a closer look at the numbers for Q4 2021:
Net sales increased 9% to $137.4 billion, compared with $125.6 billion in Q4 2020. 
Operating income decreased to $3.5 billion, compared with $6.9 billion in the same period last year. But net income increased to $14.3 billion in Q4, up from $7.2 billion in the year prior.
Net sales increased 22% to $469.8 billion, compared with $386.1 billion in 2020. Operating income increased to $24.9 billion, compared with $22.9 billion in 2020.
Net income for the full year increased from $21.3 billion in 2020 to $33.4 billion in 2021. [Source]
In Q4 2021, global cloud infrastructure service revenues surpassed $50 billion for the first time, bringing the industry total for the year to $178 billion.
What's next in your cloud adoption journey? Are you looking for a trusted AWS cloud services partner in the USA? Then, you are in the right place right now. Amzur has been one of the trusted cloud services providers for startups and SMEs for the past 15 years. 
We have diversified expertise in transforming your business landscape into a new digital avenue to help you grow seamlessly. We ensure you have a future-ready business ecosystem that can scale per your business needs.
Subscribe to our AWS cloud blogs now