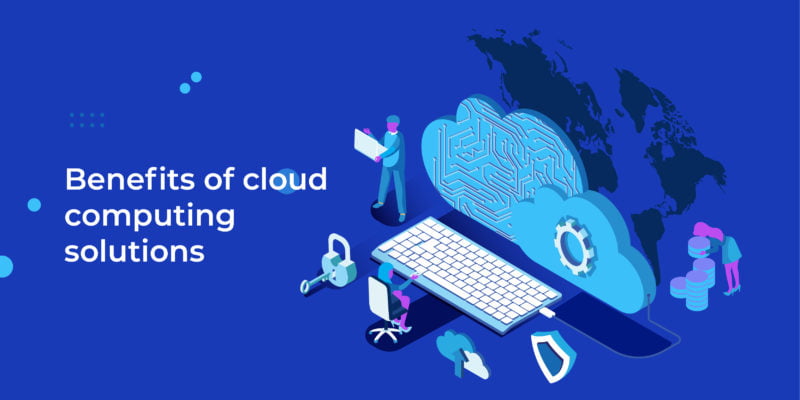 In the current digital era, technology is both a focal point and a game-changer when it comes to businesses staying relevant and competitive. Yet, investing in technology and embracing modern tools doesn't guarantee success. You must know how and when to invest in technology.
Continuing to rely on traditional business models will cost you more than ever and hinder your growth due to a lack of real-time vision and data. To address these complex technology challenges and help businesses thrive, many have turned to cloud computing as a one-stop solution.
Are you ready to re-engineer your business operations and infrastructure?
According to a Dell report, companies that are investing in big data, cloud, mobility, and security are enjoying faster revenue growth than their competitors by at least 50%.
Data management has become crucial, and every business is striving to connect disparate dots by embracing modern cloud computing technologies.
Primarily, they are looking at cloud computing solutions to automate business operations and free up decision-makers and employees from tedious manual and erroneous tasks.
Cloud computing describes the use of networks of remote servers, usually accessed over the Internet, to store, manage, and process data. As a segment of the IT service market, public cloud market revenue is expected to reach $552 billion by 2027. [source]
More than 50% of organizations store their critical data on the cloud for better security and real-time access. It's also reported that more than 80% of organizations list cloud initiatives as their top priority in 2023 and beyond. [source]
All this seems to indicate that industries are moving ahead to embrace cloud computing and migration solutions. This is especially important because unprecedented downtimes and business continuity have become the biggest concerns for many organizations.
Hence, there's never been a better time than now to adopt cloud solutions.
Read more to learn what cloud computing is, its characteristics, and why you need it now.
Top 6 benefits of cloud computing solutions
Let's look at the top benefits of cloud computing solutions over legacy applications.
Price tags are always a daunting challenge for SMEs that rely on legacy or on-premises applications. Whereas, with cloud computing solutions, you do not need to purchase the entire infrastructure at all.
Like most investments, there is a price tag that comes initially with cloud migration, but you can save time and cost once you are on the cloud. Since most cloud computing applications are available in a pay-as-you-go model, you also do not need to worry about payment for features you neither need nor want.
On-demand cloud solutions allow you to pay for only what you've subscribed and used, helping to save your budget. Similar to infrastructure costs, you will only be charged for the cloud storage that you've used.
Once you are on the cloud, the cloud services provider will maintain the application in a healthy and secure environment. For example, if any bug occurs, the cloud solutions provider will resolve that immediately by providing the necessary data backup. Other benefits to the cloud when it comes to cost include:
Price tags are always a daunting challenge for SMEs that rely on legacy or on-premises applications. Whereas, with cloud computing solutions, you do not need to purchase the entire infrastructure at all.
The cost of system upgrades, hardware, and software will be included in the contract, avoiding hidden charges.
You need not pay a technical team to maintain your application and servers like you would if services were on premises.
Low energy consumption compared to legacy business models.
Less downtime, and data will be stored across multiple clouds, ensuring better security.
2. Agility and scalability
Amid ongoing market needs, every business strives to remain agile and adapt to changes without affecting business functionalities. In cloud computing, agility means having the ability to design, develop, and deploy applications more rapidly than traditional business models.
Cloud services can also be rolled up or down as per business requirements without increasing the underlying budgets for IT infrastructure and resources pooling. For example, you can opt or stop the usage of a cloud server storage or application platform at any time without causing a budget crunch.
This flexibility further enables budget optimization and allows you to invest in another service.
As your business grows, you need extra IT infrastructure on demand. With cloud computing solutions, you have the ability to start small and scale up as needed. And, if you face a scenario where you need to cut back the unused infrastructure, you can do it seamlessly without affecting your regular business operations.
This agility and scalability of cloud solutions can make significant differences to the overall efficiencies of your organization while helping ensure you meet your evolving needs. If you collaborate with any cloud services company, they will take care of infrastructure maintenance and automatic updates that can help you stay updated and secured.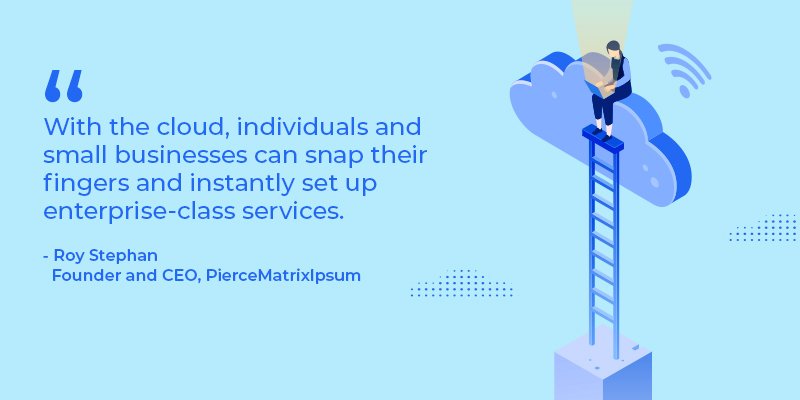 Protecting your business data and systems is an important part of the business continuity plan. With on-premises applications, you risk a power failure or other man-made crisis and the potential to lose data.
When you embrace cloud computing solutions, you ensure your applications are safe and data is secure. In case of any unforeseen downtimes, you can still access your business data without any loss, and encryption security algorithms used by cloud technologies don't allow intruders to access your business data.
For example:
If you are working on Google Docs and experience a power failure, nothing happens to your data. You can have everything saved directly in Google drive. You certainly don't get this level of flexibility and security with desktop applications.
Another benefit of cloud solutions is data recovery in case of disasters and downtimes. Most cloud adopters claim the disaster recovery is less than five hours.
Automatic updates:
Isn't it frustrating to wait for system and security updates? Very much, right?
Yes, traditional business applications need regular monitoring and updates, which requires extensive IT resources and time. Cloud computing applications, however, come with automatic system updates and security protocols to enable a secured and future-ready environment.
Company's IT systems are crucial to achieving better productivity and offering a seamless customer experience. In cloud technology, high availability means that systems are always working and there are no downtimes.
However, no one can entirely rule out service or application downtimes. In the case of traditional business models, if an outage occurs, it will take more time to restore operations and even lead to huge revenue loss.
PayPal, the online payment system, experiences a revenue loss of $225,000 per hour of downtime.
–[source]
Since you run your business on the cloud, the cloud services provider will facilitate maintenance tasks, such as the installation of new hardware and software updates. As your business grows so does the importance of high availability.
How do you achieve high availability using cloud computing?
In cloud solutions:
Upgrades and fixes can be applied to the backup server while the primary server is running.
The workload can then be switched to the backup server and fixes can be applied to the primary server.
After fixing upgrades, operations can be switched back to the primary server to ensure high availability.
With cloud solutions, you can achieve 99.99% high availability of services and applications.
In the current technology-driven era, data has become pivotal and the driving factor for business growth. With real-time data analysis and analytics, you can have a bird's eye view into your business and track growth.
Traditional or legacy applications struggle with data acquisition and processing. Meanwhile, cloud computing solutions come up with customized reports, – allowing you to get insightful information that can help you make well-informed decisions. These insights further allow you to work on business KPIs and revamp strategies for enhanced operational efficiency and customer experience.
Cloud computing is the gateway to bring innovation to your business in numerous ways. With a wide experience in serving clients for the past 15+ years, we found five key ways cloud computing solutions enable innovation across enterprises.
Cloud solutions empower enterprises to:
Expand product/service features while improving anytime availability.
Design sophisticated customer journeys for personalized customer experiences.
Rapidly design, develop and deploy applications and services.
Reach and nurture new customers.
Expand the footsteps into a new industry or market.
Every business is moving ahead to reduce unnecessary power consumption and become sustainable for many reasons. Reducing wastefulness at every level of business has become a mandate to save time and cost.
For this reason, cloud services are the only way to pave a path for a sustainable future. Since you deploy your data on the cloud and use services on-demand, cloud solutions are more environmentally friendly and reduce unnecessary carbon footprint.
According to a recent analysis by Accenture, public cloud migrations can reduce global CO2 emissions by 59 million tones per year, which represents a 5.9% reduction in total IT emissions, if it is supported with appropriate sustainability approaches.
Ultimately, cloud computing solutions are the best way to free you from tedious and erroneous operations. Cloud solutions offer a plethora of benefits including scaling your business, optimizing budgets, improving efficiency, and transforming your customer experience.
However, choosing a cloud solutions partner isn't easy amid the mushrooming of cloud services providers. If you are looking forward to bringing innovation and transformation to your business's digital landscape, it's the best time to invest in cloud technologies.
Hopefully, you now understand more about cloud computing solutions and how they can help you achieve your business endeavors.
Do you have any unanswered questions? No problem, we can help you. You can ask about pricing, implementation, or anything related to cloud migration services. Reach us for further information.
Contact now