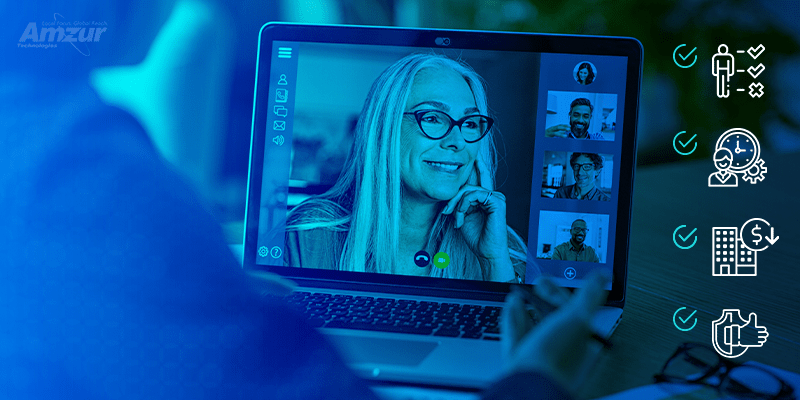 Do you have remote working or work from home policy in your organization? This is one of the common questions many millennial and Gen Z workforce is asking hiring/talent acquisition managers. If yes, they are more inclined to join the company quickly than other companies who don't. With the Coronavirus pandemic, remote working teams have become a norm instead of just a trend. 
With the availability of modern technology tools like cloud platforms and video conferencing tools, companies are embracing remote working culture to improve employee safety, engagement, retention, and productivity. Furthermore, remote working teams help businesses navigate through unforeseen disruptions and act as a business backup plan. 
Due to the ongoing disruptions, most of the companies work remotely to ensure business continuity and seamless customer experience. Let's have a look at the growth of remote working and its impact on business operations in the USA.
Growth of remote working teams in the USA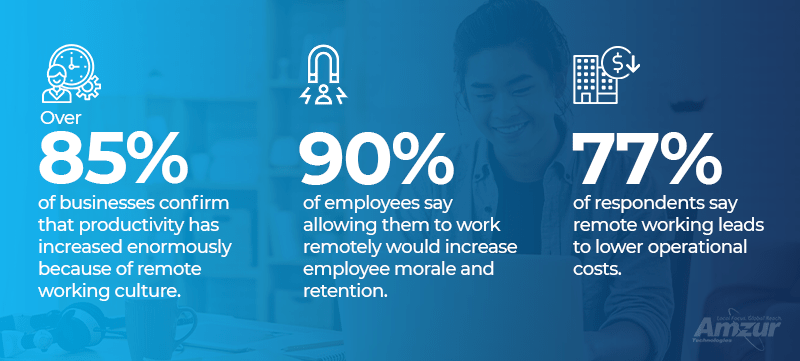 Over 85% of businesses confirm that productivity has increased enormously because of remote working culture.
90% of employees say allowing them to work remotely would increase employee morale and retention.
77% of respondents say remote working leads to lower operational costs. source   
Why are remote working teams right for your business?
Over the past weeks, millions of people around the world are adjusting to the full-time remote work culture to combat the ongoing disruptions. At Amzur, we have been operating remotely and leveraging all possible ways to collaborate with co-workers and clients for the past 12 years. No surprise, we were able to meet all the goals set through our diligence of experience.
As the world transitions into virtual work, there is a growing demand for distributed teams to make the business run smoothly. Although there are challenges that come with hiring and managing a remote team, there are a plethora of benefits for your business. 
Here we discuss the top reasons why distributed teams are right for your business to navigate through unforeseen disruptions.
1. Skill-based hiring:
Despite the size and scale, the success of any business relies on hiring the best talent and building a cohesive team. Remote working allows you to explore myriad ways to find the top talent around the globe. You can hire employees either on a full-time or contract basis to meet your goals. Furthermore, if you have any limitations with budgets, contract-based virtual teams would help you in developing solutions with best outcomes. Remote working teams ensure you have the best talent deployed working on a project without much waiting to onboard and train them. On the other hand, with the abundance of the top talent, you can survive any unforeseen disruptions and downtimes.
2. Remote working teams are more productive:
Comparatively, remote teams are more productive than in-house teams. They spend more time on project development and do more in less time. With remote working culture in place, your employees need not commute for hours — resulting in saving time. Remote workers are more flexible and schedule their work according to your requirements. Another advantage of remote workers is, they are self-motivated, and you need not train them exclusively. It will considerably save training costs.
3. Reduced maintenance costs:
With the Infrastructure-as-a-service (IaaS) and Software-as-a-service (SaaS) solutions, you need not invest in establishing infrastructure and renting physical office space. The modern video conferencing and remote team management tools allow you to get in touch with your virtual team members regularly. Leveraging the remote working policy at the workplace will increase your employee satisfaction and drive more productivity. A State of Remote Work report by OWLLabs for 2019 showed 48% of employees are likely to work remotely at least once in a week. This will significantly reduce stress levels and keep them healthy.
4. Improves employee ownership and accountability:
In remote working teams, an employee's roles and responsibilities are clearly defined and tracked to ensure every member is on the same page. You can expect the deliverables on time with minimal supervision. In fact, members of the distributed team collaborate very frequently to share the project status and ensure they are accountable. Another hidden benefit of having a remote team for your business is, they work more than the expected 40 hours a week than the in-office workers. It further improves ownership, collaboration, and strong relations among employees.
How to build global working culture with remote working teams? 
Beyond the current outbreak, many businesses are spearheading to leverage remote teams to ensure business continuity. Though they are not ready to adopt fully-remote working teams, hybrid-teams have their significance in meeting both employee and business goals. 
Finding the best talent and building a stronger distributed team isn't as easy as we think.
Any disruptions or miscommunication among the team members would impact the morality of the team and company as well. Therefore, collaborating with a third-party vendor who can deliberately deliver the best outcomes would benefit your business instead of running behind the traditional time-consuming hiring process. 
At Amzur, we have proven expertise of 15 years in building remote teams and helping businesses of all sizes. Our team of remote developers is always ahead in embracing the latest technologies and delivering the best experience to clients. We tear down barriers created by physical distance through our modern project and virtual team management tools.