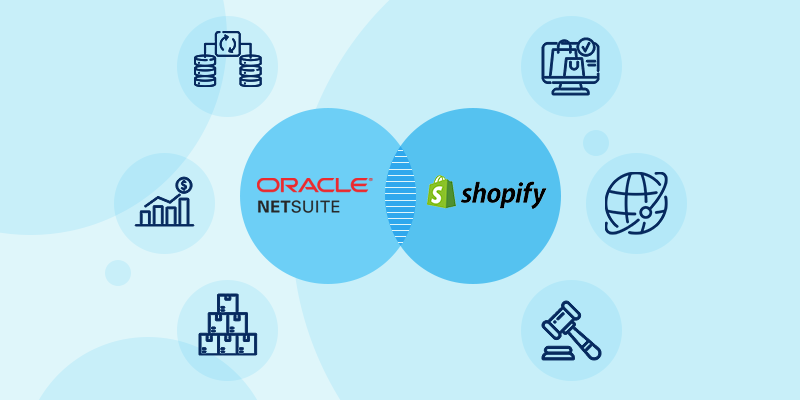 For any business, moving forward with siloed and disorganized data will hold back the growth and customer satisfaction. However, especially in the eCommerce industry, data collection and synchronization among disparate systems play a significant role in making informed decisions and nurturing customers. Shopify platform makes setting up and managing eCommerce retail store easy. While having an ERP software solution like NetSuite amplify growth opportunities further. Integrating these two platforms would give better visibility into inventory, omnichannel experience and customer experience than you'd expect.

Here we discuss the best ways of Oracle NetSuite Shopify integration to synchronize data between the systems. NetSuite ERP Shopify integration automates order rising, inventory management, finance, and regulatory compliances regardless of the geographic locations. Not understanding the unique requirements of companies would end up with costly penalties of NetSuite integration.

Are you planning to ramp up your eCommerce business growth and have plans for Oracle NetSuite Shopify integration? Have a look at the checklist of requirements we piled up for you:
Customizations
Data volumes
Customers
Supplier integration
Technical resources
Budgets 
If you are ready, you'll have three best options to integrate NetSuite ERP with the Shopify eCommerce platform.
Point to Point integration
Custom-built integration
SaaS-based middleware integration
Point-to-point integration:
It is the fundamental approach of Oracle NetSuite Shopify integration. Point-to-point integration synchronizes data like inventory, orders, products, and customers. In this approach, sellers must choose which system to 'master' and how to handle data mapping. Furthermore, point-to-point NetSuite Shopify integration syncs data in batches, meaning every hour or even once or twice a day. It is the best approach for small businesses with a limited budget and a limited set of operations. 

However, for growing retailers with multiple channels to integrate and manage, Point-to-point integration can not deliver results as their business evolves. As your number of systems increase, thus the complexity of integration goes up. Conversely, if anything goes wrong with the integration process, it impacts the entire system operations and even results in unexpected costs. 
Custom Oracle NetSuite Shopify integration: 
No two businesses are the same. Similarly, no two platforms have the same protocol to exchange data between them. With the evolution of technology and customization capabilities, businesses are opting for custom APIs (application programming interfaces) to make the integration process seamless and quick. In this approach, either the internal team or external NetSuite ERP development vendors like Amzur will help you with custom API integration. Unlike the Point-to-point approach, you need not worry about the complexity and cost involved with your business growth.

NetScore is the NetSuite Shopify or Shopify Plus Webstore connector that ensures fast and accurate inventory and order fulfillment details in real-time. It delivers a seamless customer experience with complete automation of the sales process, returns, refunds management, and inbuilt error handling mechanisms. 
SaaS-based middleware integration: Adopt Cloud solutions for future
It's the third and the best way of Oracle NetSuite Shopify integration. Here in this model, external vendors offer cloud-based solutions that sit between NetSuite and Shopify or Shopify plus platforms. Hence, you can access and avail services anywhere and anytime. These SaaS (Software as a Service) models are often called hub-spoke models. 

However, unlike the point-to-point integration approach, SaaS-based modules are highly configurable and coded according to business requirements. Business owners can define rules for how their data moves between systems, and hence, they can have more control over data flow. This SaaS-based middleware Oracle NetSuite Shopify integration solutions grow with your business without hassles. It gives 'out of the box' customer experience with real-time inventory details, product tracking, and improved security. 

That being said, every business has its goals. Choosing an Oracle NetSuite Shopify integration method depends on customization, complexity, budget, and what customers are expecting from you. 
Our very own Scott Jorgensen, Director of NetSuite Practices, has been utilizing NetSuite for the past 20 years throughout his own business lines. He also drove the Amzur's NetSuite Company implementation. On his video, dated back to 2014, he talks about his experiences and his take on the best way to adopt NetSuite. If you're prepared and ready for SaaS-based integration, Amzur helps you with the best NetSuite eCommerce integration services to accelerate the growth and customer experience.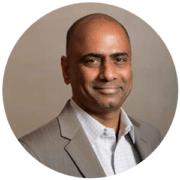 Author: Balaji Ramanujam
Director of ERP Practice
Driving successful NetSuite ERP implementations and optimizing business processes. I'm passionate about leveraging technology to maximize operational efficiency and achieve strategic objectives.

Connect