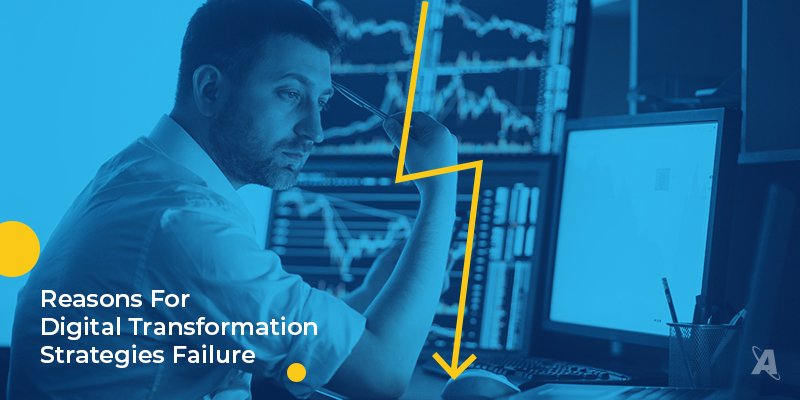 Digital transformation technologies aim to improve productivity, efficiency, and profit for growing and established businesses. However, its implementation is not as easy as we think. 
The digital transformation journey has to go through various phases and overcome bottlenecks. Despite its benefits, there are numerous digital transformation myths and challenges we have to understand beforehand. 
Despite all of that investment, an estimated $3.3 trillion by 2025, many digital transformation initiatives will fail — up to 84% according to Forbes. While measuring failure varies from organization to organization, according to an Everest Group study, 73% of companies failed at providing any business value from their digital transformation process. [CMSwire]
Are you planning to implement digital transformation strategies now or in the future? 
Then, don't miss the top barriers of digital transformation strategies failure from industry leaders. 
9 reasons why digital transformation strategies fail:
Many reasons will negatively impact digital transformation implementation. Here is a list of the top 9 factors causing the failure of digital transformation strategies.
Lack of data

Employee reluctance to change

Failing to gauge the end-user experience

Miscommunication 

No coordination across teams

Outdated tech stack 

Lack of skills

Underestimating the cost

Implementing new tech onto broken systems 
1. Lack of data strategy:
Gartner says that the key accelerator for digital transformation is a company's competency in data and analytics. 90% of corporate strategies will distinctively mention information as an important enterprise asset and analytics as an essential competency by 2022. Companies must transform the data into actionable insights to get the best out of digital transformation. 
Though the companies have a handful of data and analytics, if they are unclear about how to leverage the data further, digital transformation strategies will fail due to a lack of data strategy. 
Getting the right data to the right place is problematic as data is distributed across clouds, devices, and machines. – Gajen Kandiah, Hitachi Vantara
2. Employee's reluctance to change:
It is one of the crucial factors that lead to digital transformation strategies failure. Employees are linchpins, and they are contributors to business growth. So, your employee adaptability is a must in leading digital transformation efforts to the next level. 
Often, employees prefer the status quo and resist the change. Costs, NPS, and productivity often move in the wrong direction before long-term benefits are realized. – Murray Foxcroft, ProArch
3. Failing to gauge end-user experience:
While designing digital transformation strategies, make sure you have clearly defined goals in terms of end-user experience. However, not having a plan and goals would lead to havoc. 
Not having clear goals to achieve in terms of end-user experience and accurate ways to measure it is often the reason the target is missed. – Patrick Ostiguy, Accedian.
A small miscommunication could lead to massive destruction of digital transformation implementation. So, make sure you have transparent communication right from the C-level executives to employees involved in digital initiatives. 
If the organization lacks a culture of transformation or employees are extremely resistant to change, achieving buy-in for new processes will be challenging. – Sunil Misra, Emtec.
5. No coordination across teams:
Every business contains numerous moving parts and departments. A digital transformation is a holistic approach that can completely revamp your organization's landscape and bring efficiency. However, to achieve this, you need perfect coordination across teams and team members. 
Companies that fail at digital transformation do so because they neglect one or more of those parts. – Gergo Vari, Lensa, Inc
It is one of the reasons why most digital transformations fail. Though your stakeholders and employees gelled well, using an outdated tech stack can be cumbersome for digital transformation implementation. 
Your tech stack should foster unification between sales and marketing teams, driving results with all the tools, services, and analytics needed to execute larger organizational strategies. Without it, digital transformation efforts will fall flat. – Mike Dickerson, ClickDimensions
Qualified and experienced tech resources are paddles of the digital transformation (DX) journey that keep it afloat. Hence, having the right skills ensures a seamless DX implementation and keeps your business ahead of the competition. 
It takes effort and change management to move workloads to the cloud, and cloud skills are still in high demand and hard to find. – Juliette Rizkallah, SailPoint
8. Underestimating the cost:
Digital transformation implementation will take time and cost. But, in reality, we often see companies underestimate their budgets and flounder to move ahead. Above all, digital transformation implementation depends on how strategically you spent rather than how much you've spent. 
Consistently overestimating the benefits and underestimating the cost is one of the main reasons digital transformation fails. It matters little if leadership is aligned if their actions are based on inaccurate or inadequate information. – David Kruger, Absio Corporation
9. Implementing new tech onto broken systems:
It is imperative to find which systems need upgrades before implementing digital transformation strategies. Whereas implementing technologies onto broken processes doesn't guarantee you success. 
Leaders can improve business transformation results by developing integrated strategies that start with a goal-driven process and organizational design change management. Digital innovations should better enable and harmonize those efforts. – Clayton Nicholas, Vibronyx
[Source: Forbes]
Amzur's digital transformation implementation services:
Want to make your digital transformation implementation seamless and struggle with a lack of skills? No worries. Amzur Technologies is here to help you with customized and futuristic digital transformation solutions that make your business flourish and sustain unprecedented downtimes.
We have been a trusted technology and digital transformation solutions and services provider for many SMEs and established firms across the USA. Located in Tampa, Florida, we serve clients across the globe and provide custom cloud solutions. Our team of technology experts assists you with evaluation, design, development, implementation, and maintenance.
Be it mobile app development, legacy app modernization, or NetSuite ERP implementation, we follow the agile process and make your business scalable.
Want to discuss your digital transformation project? Our tech team is ready to help you with customized solution.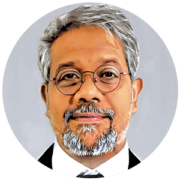 Author: Ganna Vadlamaani
President & CEO – Growth Markets
Driving strategic growth initiatives, fostering innovation, and leading high-performing teams for impactful business expansion.