With the global proliferation of IT start-ups, the concept of outsourcing has become very popular. In fact, several established IT companies have already outsourced many of their non-core business functions to offshore entities. Although the process helps in reducing costs (to some extent) and attracting technical expertise, it fails to create a unified team for managing projects. By underscoring the importance of collaborative approaches, several software companies around the globe are considering different business models. One such model gaining popularity today is Extended Team Model (ETM).
Introduction to Extended Team Model
The concept of Extended Team Model (ETM) is based on a cross-organizational partnership that can be vindicated by the increasing need to have a team of technical experts while having limited resources to outsource business functions and witnessing changing demand for software solutions. It is a modified outsourcing model that builds an extended wing of a client through a long-term partnership with vendors to get continuous access to their software development resources.
Extended Team Model differs from outsourcing by transcending the client-vendor relationship loop and emphasizing the collaboration of teams. It may seem like a virtual team-building strategy by developing teams across organizations, geographical and temporal boundaries and using technology-driven communication media. However, this virtual team is not dissolved but fully integrated with the clients team for better control and visibility after the completion of the project.
Key Features of Extended Team Model
The key features of the Extended Team Model are as follows:
Formation of more successful teams
More effective and efficient flow of communication
Shared responsibilities between home and offshore offices
Better control and transparency in operations
Increased development capacity
Application of Extended Team Model
The Extended Team Model is popular among small to medium IT and software clients who consider offshore outsourcing for long-term gains. The business model is designed to suit the needs of clients who have ongoing software development projects. It is suitable for companies that have teams working from remote locations, and where the collaboration of such teams becomes essential for timely project delivery and provision of technical training to team members.
US-based start-ups can incorporate the model to shape successful teams, promote efficient communication between home and offshore offices, establish shared responsibility, exercise control over operations, maintain transparency, and develop scalable capacity. The Extended Team Model is applicable to long-term partnerships with a large amount of global software development work.

Conclusion

The competitiveness of IT companies depends largely on the technical expertise of teams. Since it is not always possible to find such expertise in the company's home country, having an extended team operating from remote locations prove highly beneficial. Amzur's extended team services help companies in hiring satellite teams that are an extension of the company's team in the home country.
Although geographically separated, these teams work collaboratively to meet project requirements and deliver solutions to clients on time. Such teams adhere to the company's code of conduct and commit to management procedures prevailing in the home country.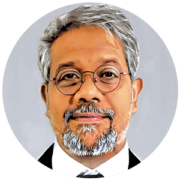 Author: Ganna Vadlamaani
President & CEO – Growth Markets
Driving strategic growth initiatives, fostering innovation, and leading high-performing teams for impactful business expansion.