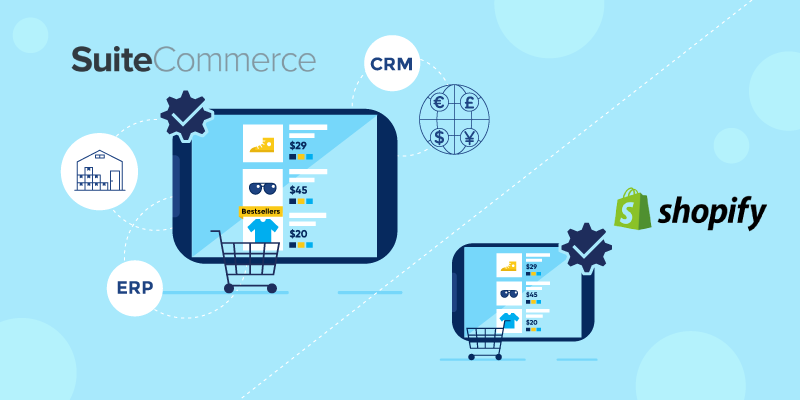 Shopify is one of the renowned eCommerce webstore platforms that help many small and mid-sized enterprises at reliably low prices. It makes webstore setup and management easy with its in-built features and modules. To expand its operational capabilities further, users need to opt for third-party applications for integration with ERP and CRM platforms. Shopify Plus platform offers sophisticated features and customized modules. It has its challenges to overcome. 

SuiteCommerce Advanced is the latest and comprehensive version from NetSuite designed especially for small and mid-size growing eCommerce businesses. Unlike Shopify Plus, NetSuite SuiteCommerce Advanced is the top tier solution integrated with CRM, ERP, and other backend operations. SuiteCommerce Advanced is a complete eCommerce solution that allows real-time visibility and improved customer experience. 

Are you planning to start a new eCommerce business or have plans to upgrade your system? This article would give you a gist of the top 7 benefits of NetSuite SuiteCommerce Advanced eCommerce solution over Shopify Plus.
SuiteCommerce Advanced Vs Shopify Plus
1. Intuitive website themes:
Regardless of the size, website appearance and customer navigation are imperative for eCommerce business growth. In this regard, both Shopify Plus and SuiteCommerce Advanced offer rich website themes to capture customer attention and improved customer experience. 

There are more pre-designed themes and templates available on Shopify themes. Comparatively, NetSuite offers a few more advanced website themes to string customers more time on the website. 
2. Website customization:
Customization has its significance in developing eCommerce applications and managing them. In the case of Shopify Plus, unless you're a pro at Liquid, custom template language, your customization capabilities are limited. It needs a lot of attention to learn and develop using Liquid. On the other hand, NetSuite SuiteCommerce Advanced solutions are developed using HTML, CSS, and JavaScript languages. It further makes developers customize modules to meet the specific needs of the business
3. Website performance:
Website page loading time (latency) directly impacts customer experience, sales, and retention. Customers certainly don't prefer websites with high latency and more likely to do shopping with response time less than 3 seconds.
A one-second delay in page load time yields: Website performance stats
11% fewer page views
16% decrease in customer satisfaction
7% loss in conversions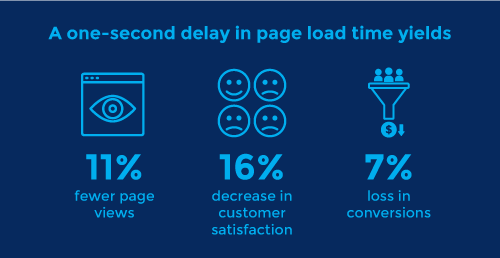 Considering the website performance, both Shopify Plus and NetSuite SuiteCommerce Advanced offer a cloud-based Content Delivery Network (CDN) at no extra cost. This ensures a faster page loading and web performance across the globe. NetSuite provides merchants a world-class CDN powered by Cloudflare, while Shopify Plus CDN is powered by Fastly.
SuiteCommerce Advanced applications ensure an average of 3.5 seconds of website loading time. According to industry stats, this is optimal and, of course, improves customer engagement significantly.
Source for image: NetSuite SuiteCommerce Advanced source
1. Merchandising capabilities:
Identifying fast-moving goods and promoting them is imperative in the eCommerce industry for better ROI. Having such merchandise capabilities will narrow down user search requirements for products. Considerably, this is another best feature of the SuiteCommerce Advanced platform over Shopify Plus.

NetSuite SuiteCommerce Advanced solutions come with faceted navigation features to help customers in product research. Whereas, Shopify Plus platform users are forced to leverage third-party apps for effective product search. SuiteCommerce Advanced solutions have advanced merchandising zones to help online merchants. They allow online merchants to promote specific products based on their popularity, fast selling, brand, and profitability. Shopify Plus doesn't have online merchandise zones. As Shopify Plus is an eCommerce platform only, it misses real-time data from ERP systems. Hence, it's practically impossible to display and promote products based on a few attributes.
2. Customization and ease of doing business:
NetSuite ERP is developed for B2B entities with full-scale customization and a single source of data for quick decision making. Shopify Plus solutions focuses on B2C entities. Comparatively, NetSuite SuiteCommerce Advanced solutions outperform Shopify Plus in terms of customization and ease of doing business.

If you have B2B lines, SuiteCommerce Advanced will give you extensive online retail shopping experience. The businesses running on the Shopify Plus platform can handle B2B models by creating a clone store from your B2C website to manage B2B customers. So more goes to technical attention and resource allocation.
3. Multiple currency support:
As your business evolves and grows beyond boundaries, multiple currency support is a must feature. Where are your customers? Are you operating in different states or in different countries?
NetSuite SuiteCommerce Advanced allows its merchants and customers to transact in multiple currencies across the globe. Whereas, Shopify Plus merchants need to clone their website whenever they need to support a new currency and language. Shopify Plus supports up to nine currencies.
4. Scalability:
Scalability is the most challenging factor for growing eCommerce businesses. As your company starts growing, it should be adaptable to handle website traffic, incoming orders, transactions, and inventory management.

Considering all the above parameters, NetSuite SuiteCommerce advanced solutions outperform Shopify Plus without the need for third-party app integration. NetSuite is a comprehensive and easily adaptable solution that integrates various divisions like ERP, CRM, inventory, and supply chain that supports scalability.

In the case of Shopify platforms, merchants need to opt for third-party applications as business requirements keep on changing. Thus, in turn, using Shopify platforms increases the probability of malfunctions and inefficiency.

The above are the best features of NetSuite SuiteCommerce advanced compared to the Shopify Plus eCommerce platform. NetSuite allows you to focus on business strategies instead of running behind third-party app integration and mundane tasks. Being a recognized and reputed NetSuite alliance partner, Amzur offers state-of-the-art customized eCommerce ERP solutions to benefit over peers. For NetSuite SuiteCommerce Advanced solutions, contact us today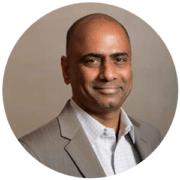 Author: Balaji Ramanujam
Director of ERP Practice
Driving successful NetSuite ERP implementations and optimizing business processes. I'm passionate about leveraging technology to maximize operational efficiency and achieve strategic objectives.

Connect