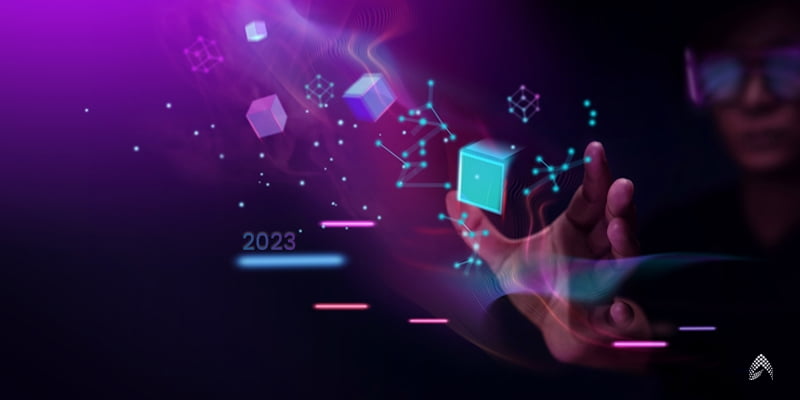 Amid the ongoing economic uncertainties, business leaders have been prioritizing technology investments and working closely with their executive peers to speed up operations while meeting the rapidly evolving business needs. In responding to old and new challenges, IT leaders must reassess their business needs and align technology strategies to deliver value quickly and become sustainable.
IT priorities of business leaders in 2023:
Here are the key priorities of business leaders in 2023: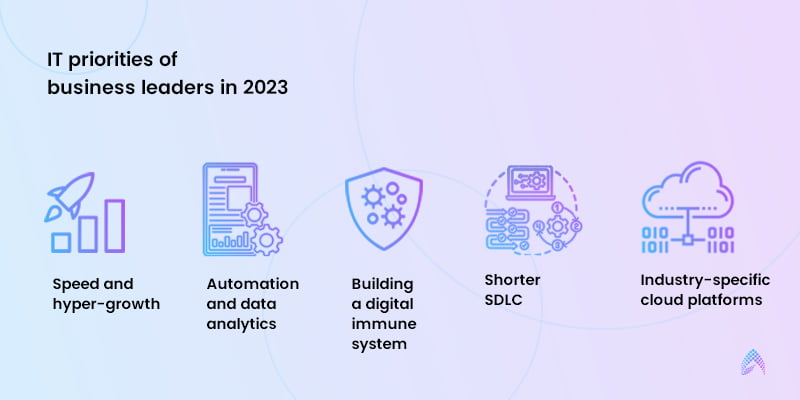 1. Speed and hyper-growth:
In 2023, the demand for the speed with which we deploy disruptive new technologies and deliver what the business needs for new opportunities have increased more than ever. Business owners are much more focused on hyper-growth, doubling their revenues every three to four years at an impressive CAGR of 20-40%. For this, business leaders are more likely to invest in rapid application development, adaptive AI models, and Low-code-No-code platforms to ensure faster development and innovation.
2. Automation and data analytics:
Responding to marketing situations and tracking performance through data has become a priority for business leaders to make timely decisions to ensure quick adaptability to market needs and automate mundane operations by incorporating technologies like Robotic Process Automation (RPA), AI, and ML. Leveraging automation technologies and tools allow you to develop process-specific applications and MVPs faster than ever, accelerate innovation, and create better business value.
Employing AI and ML technologies help you digitize paper-intensive tasks, allowing your team to devote more time to innovation and automation.
3. Building a digital immune system:
Business leaders are looking for digital immune systems that allow their teams to quickly adapt and deliver business values while reducing cybersecurity risks and improving customer satisfaction. The digital immune system combines data-driven insights, automated validation, testing, and software engineering within IT operations, increasing resilience and stability.
According to Gartner, by 2025, organizations that invest in building digital immunity will reduce system downtime by up to 80%.
4. Shorter SDLC (Software Development Lifecycle):
In 2023, the speed at which you develop and deploy new features will change the face of your organization and its competitiveness. Instead of a traditional longer development process, businesses have been opting for a feedback-based approach where the whole process is split into sprints, allowing teams to evaluate the application's performance and refine it on the go – creating a provision for adaptability.
Since project development requirements and scope tend to change over time, an agile and shorter SDLC approach helps you develop a better version of your product/ software while reducing the development, testing, and maintenance costs. Incorporating agile DevOps methods and QA testing from the beginning can help businesses reduce SDLC time, bug identification, fixing times, and bug fixing cost by up to 60%.
5. Industry-specific cloud platforms:

In 2023, there is a growing demand for industry cloud platforms to incorporate industry-specific modular capabilities to build business cases. Industry cloud platforms offer a combination of SaaS, PaaS, and IaaS as building blocks to compose unique and differentiating digital business initiatives, providing agility, delivering value at greater speed, and avoiding vendor lock-in.

According to a Gartner report, by 2027, more than 50% of enterprises will use industry cloud platforms to accelerate their business initiatives.
3 Key technologies worth considering in 2023:
1. Hyperautomation:

Saving manual labor hours and allowing employees to focus on more skill-based functions while reducing the number of errors due to repetitive work has become a priority for business owners. In such scenarios, employing hyperautomation can help businesses rapidly identify, vet, and automate as many business and IT processes as possible.
Hyperautomation is the process of automating every possible operation by employing technologies such as Artificial intelligence, Robotic Process Automation, Business process management, and other automation tools to run without human intervention.
Integration is crucial in bringing a centralized source of truth and collaboration across an organization. Automating routine office tasks is a worthwhile project that allows you to redesign mundane tasks so that they can be integrated into a larger workflow without disruptions. Low-code/ No-code tools further simplify the creation and deployment of hyperautomation solutions by using graphical user interface configurations, requiring less technical expertise.
Since hyperautomation uses AI and ML for data processing, you can continuously learn from the data and make timely decisions with more precision.
Use cases of hyperautomation:

Hyperautomation can impact industries, including healthcare, retail, BFSI, manufacturing, and public services. Here are some examples of hyperautomation.  
Healthcare industry:

Appointment booking is one of the best use cases for conversational AI in the healthcare industry to expand access and improve human interaction to ensure patient-centric delivery systems.
However, it is often frustrating for many users to avail of appointment scheduling due to the cluttered and complex UI of existing applications.
By contrast, conversational AI allows patients to schedule appointments seamlessly without frustrations and a complicated user interface. Patients can easily book their appointments, reschedule, or cancel without much manual intervention. As you can integrate advanced AI platforms with other key applications, you can get the appointment status in real-time and avoid the hassles of waiting or scheduling conflicts.
Beyond appointment scheduling or canceling appointments, conversational AI can further help patients with other crucial information, including documents to carry or if they need to bring someone to assist them post-appointment.
ROI: Improved patient experience, retention, and no scheduling conflicts.
Manufacturing industry:

Invoice processing is a crucial and time-consuming activity that requires the utmost attention to avoid revenue leakage and customer experience. However, traditional and template-based invoice methods made the process stressful and erroneous.
Advanced conversational AI integrated with OCR can help businesses extract key values from the hard copy or image invoice and will undergo multiple cross-checks to ensure data accuracy. The process is further simplified by integrating invoice information into the existing ERPs and classifying the invoices by the cost center, business units, and product categories.
With the advanced workflow conditions, invoice approvals will be processed in just a few minutes compared to hours and days with traditional approaches. Conversational AI further helps manufacturers and their customers through a personalized approach by keeping them informed at every phase.
2. Low-code/ No-code platforms:
Speed has become crucial when responding to the disruptive environment and your customers. In such cases, relying on traditional application development will consume most of the expert developer's time, leading to unproductive outcomes.
Low-code/ No-code (LCNC) is a modern approach that allows companies to shift traditional software development to assembly and integration while making user experience and overall performance the top priority.
LCNC is a visual-based application development process that entails creating software applications using a user-friendly graphic interface that often includes drag-and-drop features. These solutions require less coding expertise, making app development easy even for non-IT professionals.
If you want to streamline company-wide operations like order processing, procurement, production scheduling, and customer information management, LCNC platforms allow you to develop applications with minimal coding knowledge.
According to a survey by Accenture, 63% of CIOs believe that LCNC is boosting their business agility and time to value, while 33% cite benefits like decreasing the strain on IT. 
Benefits of LCNC platforms:
With LCNC ideas are easily and quickly translated into products ensuring faster incorporation of modern features and time to innovation – further accelerating the development of MVPs and refining them to meet dynamic needs.
LCNC platforms improve collaboration between IT and business teams freeing developers' time from traditional and tedious development processes.
LCNC platforms can speed up application development up to 10x faster without waiting for multilayered approvals.
You can seamlessly integrate new technologies with legacy applications via APIs making legacy applications viable instead of obsolete.
Case in point – One of our clients from the non-profit industry wanted to develop a donation-matching platform to simplify and maximize a company's employee donations. Amzur developed a quick and intuitive donation-matching platform in 20 days using Stackyon (a low-code platform), with all necessary permissions and tax compliances, saving around 80% of the development time and up to 40% of the development cost.
Hyperautomation and LCNC technologies go hand-in-hand to optimize business processes and accelerate the digital automation journey, including faster app delivery, maintenance, upgrade, and feature enhancement by 20x faster.
3. Composable Architecture:
What if you have 10 different applications from various vendors working together, and suddenly a vendor stops his technical support, or a tool becomes obsolete? Undoubtedly, it would impact your performance and deliverables. Therefore, building a modern architecture that eliminates dependencies and vendor lock-ins can be a potential solution.
Composable Architecture is a modern way of architecting businesses for real-time adaptability and resilience through custom APIs. The goal is to break down larger and more complex business systems into smaller and easily manageable components called Packaged Business Capabilities (PBC). Composable Architecture integrates APIs across all business processes and activities to create digital solutions to meet changing needs.
Benefits of Composable Architecture:

Composable Architecture is a way to divide the architecture of a system into small components, so they can easily be integrated and reused. It is often used in software development and product design to make the entire architecture flexible and easy to update and maintain.
Because changes to the codebase can affect the entire system businesses should actively consider moving from monolithic designs to flexible architectures that provide higher flexibility and scalability.
The composable architecture allows each component to be replaced independently thus making updates and maintenance easy.
Composable application architecture empowers such adaptability, and those that have adopted a composable approach will outpace the competition by 80% in the speed of new feature implementation. 
Use cases of composable architecture:

Sending appointment reminders is a low-added value and time-consuming activity across industries, including healthcare, financial, government, and other sectors. Organizations can use a cloud-based and AI-enabled appointment-scheduling service to automatically send reminders across various channels by integrating with CRMs and company applications. This allows organizations to save costs and time for agents to focus on customer experience.
Domain-driven design (DDD) is crucial in building composable applications in creating a common software model between the business and IT stakeholders; so they can communicate their business requirements, data entities, and process models. In the DDD model, applications are isolated from other domains and other layers in the application architecture, improving the reusability and testability of the business domain objects.
Under domain-driven design, the structure and language of software code should match the business domain. For example, if your software processes loan applications, it must contain classes like loan application, customers, accept an offer, or withdrawal, improving the end-user experience without hassles.
To put it simply, DDD is a creative collaboration model between technical and domain experts to build and refine an application that addresses particular domain problems without maintenance challenges.
With the growing demand for composable enterprise architecture, the DDD model has become a key element in accelerating the time to market for new products.
What's next?

Setting up a composable enterprise is essential to a transformational journey. If you use hyperautomation, LCNC platforms, and composable architecture in conjunction, you can rapidly develop applications 20x faster and save developers time by up to 60% while avoiding integration silos.
Subscribe to our blog and get the latest updates straight to your inbox.