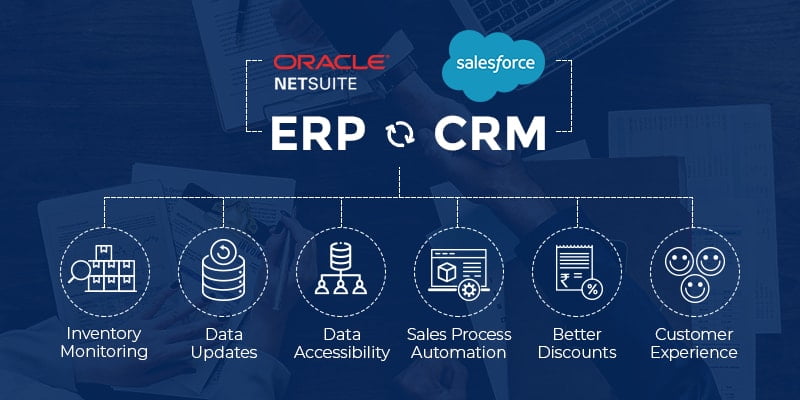 Earlier, most companies used to maintain CRM and ERP software solutions to manage front-end and back-end operations. Now, with the evolution of integration capabilities, companies are moving ahead to integrate CRM and ERP modules for a seamless process and customer experience. Salesforce and NetSuite are well-known CRM and ERP solutions for thriving businesses. This article will discuss the benefits of NetSuite ERP Salesforce CRM integration for the automated lead-to-cash process. 
1. Real-Time Inventory Monitoring
If you own online business, inventory management is the primary factor to consider. Your sales team needs to know the availability of stock and it should reflect online. It helps customers avoid misleading transactions. NetSuite ERP Salesforce CRM integration allows better inventory management and builds loyalty among customers.
If a customer orders a product online and later found it is unavailable in inventory it diminishes the brand value and trust factors.
2. Consistent Data Updates
Every business involves mountains of data. Every speck of data should be noted and updated immediately for better accessibility and decision making. If your business follows traditional data entry operations, then you would end up with a lengthy and inefficient process.
The manual data entry process is prone to errors and impacts the entire business operation. Hence, NetSuite ERP Salesforce CRM integration helps businesses keep their data up to date.
3. Data Accessing and Decision Making
Prolonged waiting for information to make decisions is a disastrous process for any business. The information should be available for C-level executives, managers and the sales team for seamless operations.

Imagine having to wait for hours to get information from other departments. Undoubtedly, this will have an adverse impact on decision making. Remarkable time will be saved if you configure a system that integrates Salesforce CRM  and NetSuite ERP. Hence, you can focus on business operations instead.
4. Sales to Delivery Process Automation
Taking orders and delivering the right product at the right time is crucial in any business. If your business comprises of CRM and ERP integration, then you can track the sales and purchase lifecycle.
NetSuite ERP Salesforce CRM integration allows better quotes and order management. This equips your sales and marketing team to inform customers of any changes.
5. Better Discount Offers
Discounts are the luring factor that attracts more business. If your accounts team updates any invoice or purchase order in ERP, then it should reflect in CRM. This helps with the decision-making process of whether to offer discounts or not. You can provide customers with quotes incredibly quick due to correct data seamless provided to you.  

The Salesforce CRM and NetSuite ERP integration allows sales teams to understand the revenues and debts of the business. You can also restrict sales teams from viewing and accessing critical business information.
6. Enhanced Customer Experience
The ultimate goal of any business is to generate leads and nurture customers. With the streamlined and automated mechanism, your business can have better customer experience over others. No customer wants to wait for a long time over the phone to get the required information. If that is the situation, you will face resentment from customers.

NetSuite ERP Salesforce CRM integration reduces the time to connect with concerned customers affected by-product services. If any query is raised by customers, then your customer support team does not need to check multiple systems for information. The data is readily available for them and can reduce time interacting with customers.

Business process automation and better customer experience are the predominant goals of every business. Amzur helps by improving the work process through Salesforce (CRM) integration with NetSuite ERP for effective operations. Our comprehensive lead-to-cash integration services will bring substantial benefits to your company.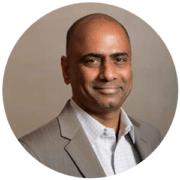 Author: Balaji Ramanujam
Director of ERP Practice
Driving successful NetSuite ERP implementations and optimizing business processes. I'm passionate about leveraging technology to maximize operational efficiency and achieve strategic objectives.

Connect