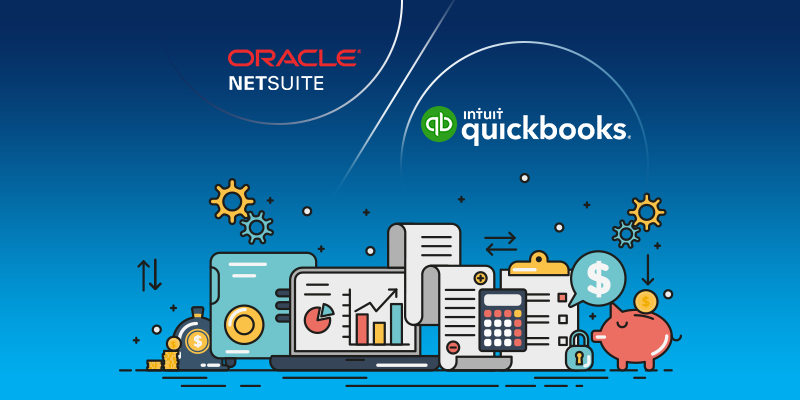 If you are a rapidly growing business, you may have already realized that you have outgrown the features and capabilities of solutions such as QuickBooks which are primarily accounting solutions. Don't get me wrong – QuickBooks is one of the best accounting solutions in the market, but beyond a certain point, businesses need more.
 The growth of any company depends on continuous improvements in operations, productivity, quality, speed, and improved customer experience.
1 Real-Time Data Access
Data is crucial in business growth. In the current competitive environment, real-time data accessing and tracking helps businesses make decisions for growth. Real-time data accessing tops the QuickBooks challenges.
As the business grows, companies have to sync the data among disparate systems across multiple locations. Often, it leads to delayed operations and errors in updating the data. It will adversely impact business operations.
2 Reports Take Too Long to Run
As your business scales up, data processes need to increase simultaneously. With QuickBooks, it takes too long to run reports. Thus it impacts the business operations at various locations.
3 Manual Work For Order Processing and Approval
QuickBooks involves a lot of manual work. When a sales order rises, employees have to manually enter invoices into the system, while someone else copies the invoice data and enters it into spreadsheets. Any errors in the data entry process will impact delivery and customer relationships.
On the other hand, QuickBooks involves paperwork to get approvals. Finding documents and processing information in separate applications will take more time than usual.
4 Sales Forecasting and Budgeting Becomes Difficult
This is another major QuickBooks challenges. As you have to wait until the last day of the month, it is difficult to forecast sales and KPIs. You can't predict the real numbers of the budget to allocate for business growth. In addition to this, cross-posting transactional data between various systems is time-consuming. Thus, the financial team spends more time every month to consolidate financial reports.
5 Lack of Supply Chain Management (SCM) Details
E-commerce is the current trend in business. Most of the customers check online for availability and rise orders to purchase. QuickBooks challenges restrict users and employees from real-time updates of stock availability. Thus, it leaves a negative impact on customer relations and business longevity. Moreover, you can't deliver services 24/7 securely.
6 Worrying About Technology Updates
Adaptability is the biggest challenge with QuickBooks. As the business grows, it has to harness the latest technology platforms to deliver the best. Process automation and controlling need extensive supervision. QuickBooks users have to worry about every technology update instead of focusing on key business operations.
So if you're struggling with limited accounting operations, process automation and real-time data access,  take a look at NetSuite. NetSuite is an extremely reliable cloud-based solution with a proven track record of successful implementations and customizations.
NetSuite ERP software offers a wide range of solutions for mid-range and large enterprises. You can benefit from QuickBooks to NetSuite migration in terms of agility, scalability, finance operations, inventory control, vendor management, payroll and asset management. Thus it offers a competitive edge against others.
To help you get up and running with NetSuite quickly, Amzur's consulting services can help you craft the right strategy for a swift and secure migration