NetSuite
Quickbooks
A Complete Business Suite
NetSuite supports all your accounting,
sales, and service, inventory,
fulfillment, and e-commerce
operations in one integrated
business management suite.
 QuickBooks is only focused on accounting when it comes to fulfilling customer orders, tracking sales opportunities, or manage customer service, you always need separate applications.
Netsuite makes more complex accounting
easy.
 QuickBooks does not effectively support multi-site operations, trading abroad, additional subsidiaries, complex pricing, revenue recognition.
NetSuite can be accessed from anywhere.
Just need a browser or a tablet or a smartphone.
Most QuickBooks users choose the Desktop version
NetSuite automates key financial processes.
QuickBooks customers continue to enter the same data into multiple applications and use spreadsheets for accounting tasks.
NetSuite is built to integrate with any other applications.
QuickBooks does not provide a standards-based, open architecture for connectivity to partners and other business apps.
NetSuite provides business performance dashboards as standard, all accessible
from a web browser so they're securely
available from anywhere.
QuickBooks gives you limited visibility into business performance.
NetSuite eliminates having to worry about backups, security, upgrades,
performance and other typical IT issues
that slow down your business.

With QuickBooks, you always have to worry about IT issues and costs.

NetSuite was built from the ground up to give small- and medium-sized
businesses like the headroom you
need to grow your business.
QuickBooks has limited functionality that will limit your business.
Multi-Language, Multi-Currency, Multiple Company & Locations.
QuickBooks is not available in a variety of languages, cannot handle foreign currency functions, and does not support local tax and accounting standards.
NetSuite provides advanced analytics and reporting in a single integrated tool.
Analytics is a critical weakness in QuickBooks.  Customers are able to run basic financial reports but the information silo prevents users from truly evaluating and improving business performance.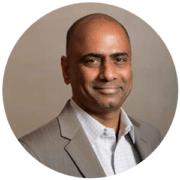 Author: Balaji Ramanujam
Director of ERP Practice
Driving successful NetSuite ERP implementations and optimizing business processes. I'm passionate about leveraging technology to maximize operational efficiency and achieve strategic objectives.

Connect