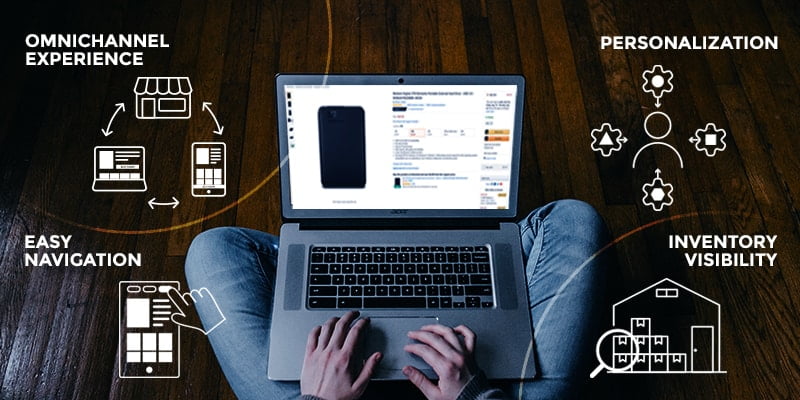 NetSuite ERP E-Commerce Integration
eCommerce business is growing steadily across the globe. According to eMarketer reports, global retail e-commerce sales will reach a new high by 2021. It's expected to reach $4.9 trillion by 2021 compared to $1.3 trillion in 2014 [Ref]. Omnichannel shopping, personalization, and better customer experience are the key factors to drive more engagement and sales to e-commerce business owners. 
ERP ECommerce Integration Full Throttle
"One System to Manage Your Business! Web Store, Sales, Inventory, Accounting, etc."
When this came to be a possibility all the headlines read as follows:
Real-Time Inventory Visibility
eCommerce + ERP Integration | Automate Customer Orders
Innovation has historically been seen as the final step to realizing ERP benefits – but too few brands have gotten to that step, and fewer still have been able to innovate as effectively as Amazon or the litany of rising micro-brands.
How NetSuite eCommerce integration improves customer experience:
Most brick-and-mortar businesses lack providing real-time data access and accurate inventory levels when channels are decentralized. It hurts the customer experience adversely. In fact, 33% of customers have ended their relationship with brands with less or no personalization. 
Know how NetSuite eCommerce integration ensures seamless shopping and customer experience:
Ensures consistent and accurate data together with the automated processes
Enables hassle-free navigational experience and drives them to make purchases
Integration eliminates human intervention in report preparation and data exporting
Centralizes information across multiple channels. 
With consistent and real-time data, integration allows business owners to know when to move inventory from one location to another location. Furthermore, the NetSuite eCommerce integration lets you know how to market in various regions. It improves sales and customer experience significantly.
Automatically synchronizes data between multiple eCommerce platforms. 
Importance of omnichannel and personalized customer experience: Stats.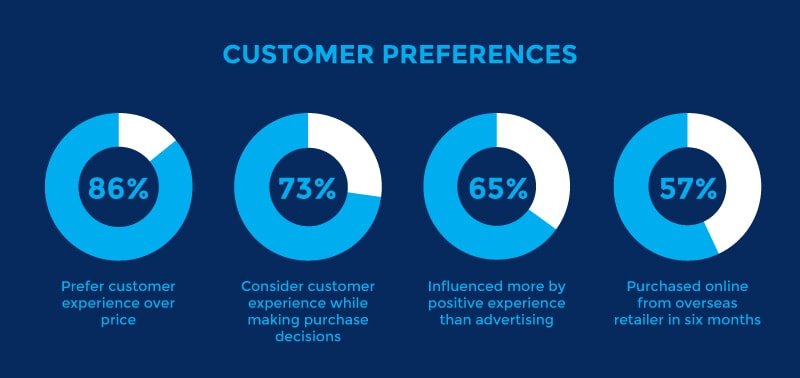 86% of buyers are willing to pay more for the best customer experience. [1] 
73% of buyers point to customer experience as an important factor in purchasing decisions.
65% of buyers find a positive experience with a brand to be more influential than great advertising.
57% of online shoppers reported having made an online purchase from an overseas retailer in the last six months.
A new study from Forrester Consulting, commissioned by NetSuite, reveals that 62% of the midmarket, B2B sellers planning an e-commerce purchase intend to adopt an integrated solution.
Make customer experience as your #1 priority
The future of eCommerce significantly depends on personalization. According to reports, 73% of customers are using multiple channels during their shopping journey. NetSuite ERP- eCommerce integration allows you to understand how a customer buys, marketing channels they engage, and the driving factors to purchase. According to reports, customers who use more than 4 shopping channels are likely to spend 9% more in the store.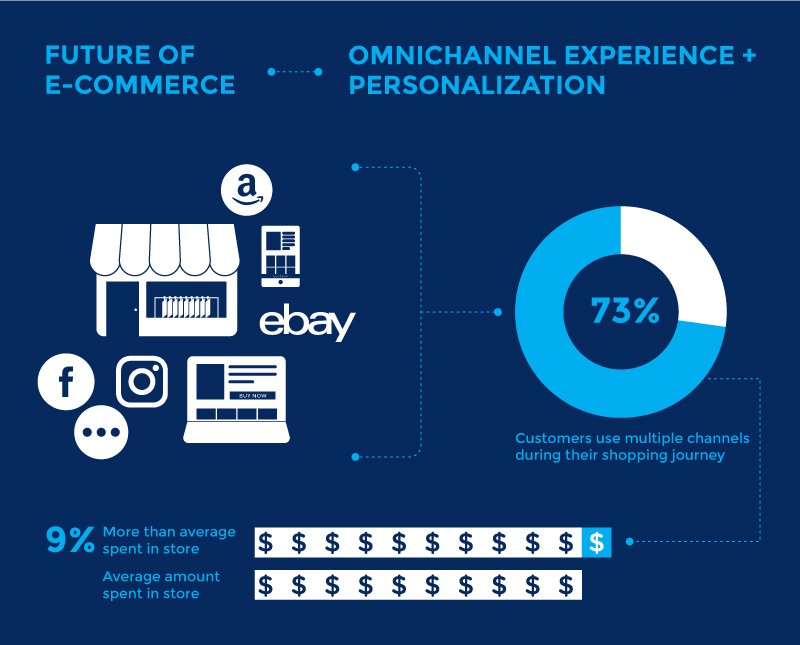 As e-commerce sales continue to grow, businesses are investing more in achieving an omnichannel experience. With a plethora of information and competitors in the market, it's tough to entice and win over customer expectations.
Online customers are tough to attract. They need an appealing website, easy navigation, hassle-free order processing, and quick payment gateways. Apart from this, your website should provide a detailed product description and inventory management across all sales channels. The more you interact and please customers, the more you can expect sales out of visits.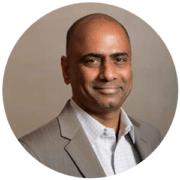 Author: Balaji Ramanujam
Director of ERP Practice
Driving successful NetSuite ERP implementations and optimizing business processes. I'm passionate about leveraging technology to maximize operational efficiency and achieve strategic objectives.

Connect