The past decade has seen quantum changes in the way enterprises do business, but there has been an even larger change in customer expectations. Enterprises today are under immense pressure to deliver on these rapidly changing expectations. For example, global marketplaces provide an extremely wide choice to consumers today, and sellers are hard-pressed to deliver fast shipping, high quality at competitive pricing, seamless after-sales support, and so much more. Failure at any point of the customer experience journey can cost the business badly, as all it takes is one strong influencer to post negative feedback on social media!
Delivering on the extensive customer expectations requires Operational Excellence, and enterprise applications play a critical role in pretty much every aspect of the company's operational success. CIOs today need to continuously evaluate their application landscape on focused goals such as – "are my core applications fulfilling (or even exceeding) the operational requirements of both internal and external stakeholders?"
While the above question is simple in itself, the criteria for evaluation may need to be comprehensive to derive the right answer. The key criteria that CIOs need to consider are:
One of the most important experiences for end-users is based on how easily & quickly they can get their work done within the application's user interface. Apps that do not get updated to match business processes often have user interfaces that do not allow actions with minimal user intervention or may involve complex steps. Such UIs reduce productivity and impact user experience. The bottom line is that if applications are complicated or have obsolete UI, end-users are likely to prefer not to use them.
Integration with other enterprise apps
It's time to think of modernization if your applications are not able to leverage common database storage and architectural models that lead to data silos, or do not have the benefit of using APIs for exchanging data with other enterprise applications.
Integration and agility are the core of legacy modernization and digital transformation. While modernizing legacy systems, APIs are crucial to building a bridge between existing and modern applications. If your applications fail to leverage common database storage and architectural models, it leads to data silos and process disruptions. Data exchange between applications can help you achieve agility by decoupling your processes from individual IT systems and applications.
Automation is one of the crucial enablers of legacy modernization and digital transformation. In the current digital era, customers have been looking for easy and effective ways to interact with businesses.
Automation helps businesses save employees' time from low-value & repetitive tasks, redesign mission-critical business workflows, and adopt new business models. Process and workflow automation further help enterprises strengthen their relationships with consumers and customers and accelerate product and service innovation.
The success of your business depends on the performance and uptime of your applications. Relying on obsolete legacy systems can impede your operations, cause customer dissatisfaction, and put your business at a high risk of losing its charm. Modernizing legacy software enables you to identify new opportunities and threats of using the existing technology.
Instead of replacing the old systems and building a new system from scratch, legacy modernization enables businesses to enhance the existing application's performance and improve the overall uptime of applications.
Security has always been among the top priorities of CIOs, and cyber risks have moved from strategic strikes to everyday occurrences for most companies. Legacy applications struggle with regular updates and support, enabling a high risk of losing critical information and intruders taking control of operations.
On the other hand, legacy modernization ensures meeting regulatory compliances while improving security.
Legacy systems struggle with a lack of technical skills. For example, applications built using COBOL can be difficult to upgrade due to a lack of skilled personnel. Furthermore, integrating Cobol applications with modern cloud-based systems may be extremely costly and time-consuming.
Modernizing legacy applications help businesses reduce the overall TCO and maintenance while ensuring compatibility with the ongoing changes.
But not all modernization projects are created equal
I'm sure it would not come as a surprise to CXOs reading this – but it is not uncommon for application modernization projects to fail. A not-very-old report from McKinsey research stated that 70% of transformation endeavors are unsuccessful. You may likely have seen lower or higher percentages, but I'm sure that none of the statistics are likely to state failure rates below 50%!
Some of the most common reasons why application modernization projects struggle:
1. Using big-bang approaches
Rearchitecting large legacy applications can be costly, long, and consume most of the internal resource's time. A few companies take a big bang approach, considering migrating their business landscape quickly to reap legacy modernization benefits. Adopting a big bang approach by moving all applications within a domain to the cloud through large-scale lift and shift operations sometimes leads to code freezing, resulting in breakdowns and a bad customer experience.
So, adopting a progressive phase-wise legacy modernization approach can potentially reduce the risk of unforeseen downtimes and disconnected customer experience.
2. Integration challenges between legacy and modern applications
As modern businesses work on different cloud platforms, achieving a level of interconnection and integration between them and legacy apps is critical. Also, some of these applications may even be on-premise and some on the cloud. During legacy modernization and application integration, companies often fail to have a complete awareness of the important data flows driving business revenue, creating data silos and lacking end-to-end visibility.
Re-architecting the entire application landscape requires a highly skilled and experienced partner. Organizations that attempt to do this in-house run with high risks of failure.
3. Customer experience
Transformation is more about people and processes. Customers these days expect faster and better solutions at a relatively low cost. Since legacy applications fail to track real-time customer behavior, they eventually fail to personalize their approach and enhance the customer experience.
In the era of increased regulation around privacy, personalization remains a daunting challenge for businesses with legacy applications – resulting in losing revenue and exploring new revenue generation ways.
4. Slow deployment
While technology is quickly transforming the nature of business, technology investment processes must keep pace with those evolutions. Many CIOs recognize that legacy core systems lack the agility to develop and scale innovative and disruptive new technology solutions.
According to a 2020 Gartner report, for every dollar invested in digital business innovation, enterprises will need to spend at least three times as much to continuously modernize the legacy application portfolio — pushing companies to spend 70% of their IT budgets on legacy systems maintenance. Slow investment in technology leads to a lack of the right data at the right time, and further delays delivering value to customers.
5. Assessment of resources
Legacy modernization and digital transformation need expertise in fine-tuning applications and architecture to achieve cost optimization and higher responsiveness. The lack of specialized help is one of the roadblocks to the ongoing legacy modernization project. Delays in finding and deploying a team of experts could result in missing deadlines and make the project obsolete.
Application modernization is key for achieving digital transformation
The world is evolving fast with technology. Now, it's not the big beating small. It's all about the early adopter beating the slow. However, despite enterprises undertaking digital transformation and cloud migration initiatives, the lack of measurable success outcomes is still a challenge. As companies are moving toward digital transformation, it is equally important to modernize legacy applications by evaluating their current state by adopting refactoring, re-architecture, containerization, and hybrid-cloud methodologies.
Legacy application modernization is crucial to unlocking the benefits of digital transformation. It can help enterprises accelerate time-to-market, unleash value from existing applications, and enhance operational excellence while becoming more agile and innovative.
Solution
Legacy modernization and digital transformation don't happen in a single moment. Instead, it's a journey that enables you to transform your IT ecosystem based on current and future business needs to ensure a flexible foundation for future innovation and having the right IT Transformation partner can be the point that helps you make the jump from high-risk positions towards successful transformations.
Amzur's digital transformation team can help define the scope of your legacy modernization project and create an implementation roadmap based on your priorities. Our 3-phase highly effective Digital Transformation Framework (DTF) focuses on core system improvements rather than reinventing the wheel. Wherever you are in the digital transformation journey, our DTF supports and scales your business as per your future needs.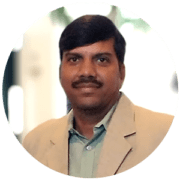 Author: Venkat Bonam
Director – Global Delivery
Driving innovation and leading high-performance teams to create impactful digital solutions that drive business growth and exceed customer expectations.