Data is currency. Over the past decade, this phrase has gotten a lot of attention across industries. With the rapid adoption of technology and increased customer expectations, businesses are heading toward adopting digital solutions that ensure real-time and insightful data.
The cloud is more than an efficient storage solution—it's a unique platform for generating data and innovative solutions to leverage that data. Hence, companies are focusing on holistic approaches empowered by innovation for business continuity amid unforeseen downtimes.
Cloud computing solutions were lifesavers for many businesses across the globe during 2020 and 2021. In 2022, modern cloud computing trends are likely to change the digital landscape of enterprises and help them foster customer relations.
Cloud solutions post-pandemic:
During a recent internal survey, we found our employees and clients are actively looking for digital solutions that could make their operations easy and effective.
Our clients said they are likely to embrace cloud-based talent acquisition, data storage, application development, and maintenance solutions.
For more than 90% of business owners, cloud solutions adoption remains a top priority post-pandemic.
According to Gartner, global spending on cloud services is expected to reach over $482 billion in 2022, up from $313 billion in 2020.
These cloud computing solutions ensure business continuity, process efficiency, and better scalability than traditional business models. Additionally, cloud service providers strive to build better future enterprises by infusing modern technologies.
Let's have a look at the leading cloud technology trends transforming businesses in 2022.
Future trends of cloud computing in 2022 and beyond:
Here are the top 6 cloud computing trends of 2022.
Cloud computing evolves with new technologies
Sustainable cloud computing solutions
Hybrid and multi-cloud environments
Artificial intelligence (AI) and machine learning (ML) in cloud computing
Edge computing
Serverless architecture
1. Cloud computing evolves with new technologies
In the tech industry, change is constant. Any tool or technology in use last year might be an outdated version today. Cloud solutions are not an exemption to this rule.
Cloud solutions have a wide range of applications, from social media to video streaming, autonomous cars, and cloud gaming. Since technologies like artificial intelligence (AI), Internet of Things (IoT), augmented reality (AR), virtual reality (VR) and 5G are emerging more rapidly than ever, cloud solutions must be adaptable to support these technologies and deliver a top-notch customer experience.
Modern cloud computing trends are not just about processing large chunks of data; it is about processing new types of data for better productivity and customer experience. And, these modern cloud solutions will make every other technology flexible, faster, and more accessible, further driving businesses to embrace cloud migration in 2022.
2. Sustainable cloud computing solutions
The biggest challenge with enterprise-owned data centers is energy consumption. Since you need to serve clients anytime and anywhere, you have to provide energy 24/7 to keep your infrastructure up and running.
According to The Department of Energy estimates report, data centers are one of the most energy-intensive building types, consuming 10 to 50 times the energy per floor space of a typical commercial building
Total data center energy consumption accounts for 2% of the total U.S energy consumption, and it is likely to increase with the traditional business models. This further leads to a high carbon footprint and environmental challenges.
On the other hand, with the evolution of cloud solutions, the net-zero carbon concept has gained popularity to cut down unnecessary energy consumptions. Businesses are migrating their essential and energy-intensive operations to the cloud to reduce energy waste.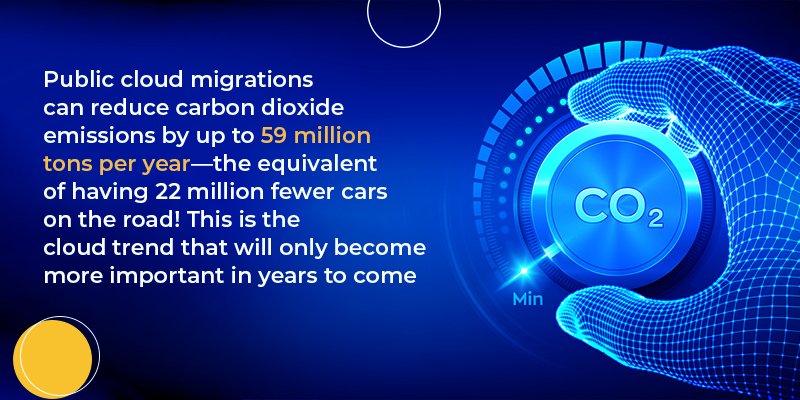 Workload flexibility, better server utilization, and energy-efficient infrastructure are the driving factors for public cloud solutions adoption over enterprise-owned infrastructure.
Here are some interesting facts for you about ongoing cloud adoption trends.
44% of CEOs in the United Nations Global Compact – Accenture Strategy CEO Study on Sustainability see a net-zero future for their company in the next 10 years.
Between 2013-2019, companies with consistently high environmental, social, and governance (ESG) performance enjoyed 4.7x higher operating margins and lower volatility than low ESG performers over the same period.
Migrations to the public cloud result in up to 30-40% total cost of ownership (TCO) savings. [Source]
3. Hybrid and multi-cloud environment
With the rapid changes in technology and customer requirements, businesses are moving ahead to develop cloud-native applications that use little to no on-premises infrastructure. While migrating to the cloud, you predominantly have two cloud deployment models, public and private cloud solutions.
Public cloud is a pay-as-you-go model where you will share a public space to host your applications and store data. In this model, you can scale up or down cloud services as per your business needs. On the other hand, private cloud solutions are more customized and developed exclusively to meet your business needs.
However, you can opt for both private and public cloud models (hybrid cloud architecture) to ensure better security and flexibility of operations. On the public cloud, you can host applications and data that need to be quickly and frequently accessed, perhaps by customers. On the other hand, the private cloud model can be used to store your mission-critical data.
Above all, multi-cloud is one of the leading cloud technology trends to leverage in 2022. This holistic approach allows you to use two or more public clouds in tandem, offering enhanced data availability and high run time.
The global market for hybrid cloud technologies should reach $98.8 billion by 2022 from $39.6 billion in 2017 at a compound annual growth rate (CAGR) of 20.1% during 2017-2022. [Source]
4. AI and ML in cloud computing
In this technology-dominated era, you wouldn't win the race unless your business has advanced technology tools and applications. AI and ML technologies are the future cloud computing trends in 2022 and beyond.
As every business is likely to go digital and embrace cloud solutions, the need for AI and ML technologies has been growing enormously in recent years. AI and cloud technologies are inextricably intertwined to ensure better data management and processing and optimizing workflows.
Undeniably, cloud computing is the sought-after solution to bring innovation and build next-gen digital enterprises. However, there are a limited number of cloud service providers such as Amazon, Google, and Microsoft, that are centralizing enterprise's data across the globe. This could result in latency, bandwidth, and security challenges.
Amid the growing number of IoT-connected devices, the need for faster and error-free computation is inevitable. IoT, AI, and ML technologies require high computational capabilities to process large chunks of data. But due to centralized cloud storage solutions, they struggle with latency issues associated with communicating with a central server.
Edge computing is one of the emerging cloud computing trends in 2022 to address the underlying challenges of latency and security. This core concept of cloud computing relies on building localized data centers for computation and storage at or near the data source where they are needed. It also increases bandwidth by storing locally and connecting to the cloud only when necessary.
For businesses dealing with customer-sensitive and mission-critical data, a locally managed data center means a high level of information security. As smart devices and IoT technologies continue to advance, the need for edge computing is essential to handle error-free operations.
6. Serverless architectures
Despite the significance of cloud solutions, cloud adoption is still an entry-level barrier for many startups and SMEs. Businesses thriving to create a competitive advantage over others can leverage serverless cloud solutions to ensure better business continuity and scalability.
Serverless computing is a method of providing backend services on an as-used basis. A serverless provider allows users to write and deploy code without worrying about the underlying infrastructure. In this model, you will be charged based on the computation instead of paying for a fixed amount of bandwidth or number of servers. Another best benefit of serverless computing is its auto-scaling capability.
This modern cloud computing trend will continue to grow in the coming years to ensure startups and SMEs can carry out their application development without a heavy upfront investment in infrastructure.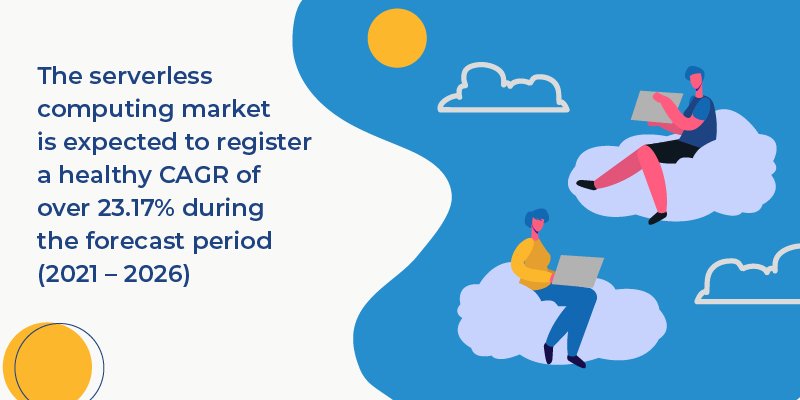 With the adoption of serverless cloud computing solutions, companies can considerably eliminate traditional and time-consuming approaches such as purchasing, installing and maintaining IT infrastructure — further freeing up your time from tedious operations.
Cloud solutions are becoming the DNA of businesses to bring innovation and scalability. However, you must stay on top of ongoing cloud technology trends in 2022 to make your business shine and improve the customer experience.
But knowing how to embrace cloud services is the biggest question for many business owners. Do you feel this way? If yes, let us explain the two best ways to adopt cloud services.
Guiding your HR and hiring managers to find and hire skilled cloud solutions experts in-house. However, it is a long process, and you might end up filling positions with under skilled resources. This can further lead to process disruptions and can become a detrimental approach.

Collaborating with a cloud services provider is another option available for you. With this, you need not worry about tedious hiring cycles. Instead, you hire a team of cloud architects and solution developers who work exclusively on your project. This will significantly save your time, resources, and budget.
Want to take your cloud adoption project to the next level? We are here to help you with customized cloud solutions. Amzur Technologies has 15 years of proven experience in delivering customized cloud solutions for businesses across industries.
Our cloud services cater to the hiring, real estate, energy, entertainment, and manufacturing industries. Our solutions include developing cloud-native applications and serverless architectures to promise high availability even during unforeseen disruptions.