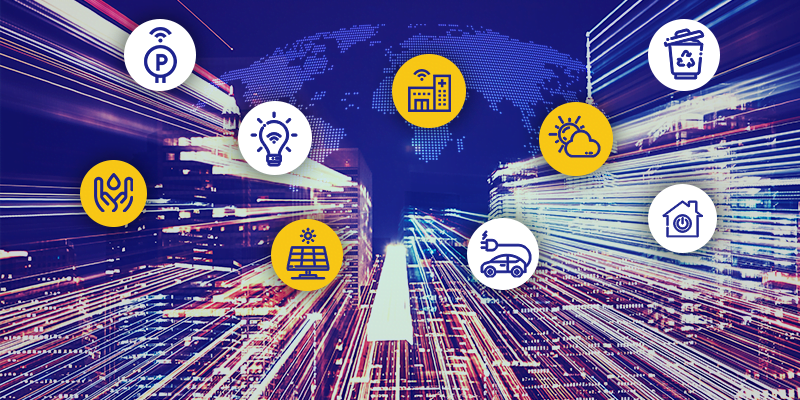 India Smart Utility Week, one of the biggest international events on smart grids and cities, is rapidly approaching. Held the week of March 3–7, ISUW 2020 will bring together the world's leading utilities, policymakers, investors and experts to discuss trends and share best practices. 
With conferences like this one showcasing next-gen technologies in the smart energy and infrastructure domains, the future is starting to look a bit brighter. But the world still faces many challenges to overcome—and many areas to transform. Before we can discuss solutions, however, we should answer one important question: What is a smart city?
The term typically refers to metro areas where technology is being used to solve important problems in transportation, power, growth, and more. The city achieves these initiatives by using tech ranging from sensors and data analytics to seamless automation. The ultimate goal is to improve quality-of-life for residents and visitors and reduce the environmental impact of city living. 
Now that we've answered that question, let's take a look at a few noteworthy examples around the world.
Tampa, Florida, USA
When you think of smart cities, you might first think of New York City, where upgrades to lighting, water metering, waste management and more are changing lives for the better, or London, where a growing population and congestion have resulted in a smart transportation revolution. 
But one smart city to watch is, without a doubt, Tampa, Florida. It all started because, sadly enough, the Tampa Bay Area was labeled one of the top 10 most dangerous metro areas for pedestrians and bicyclists, which made the U.S. Department of Transportation choose to pilot a new autonomous vehicle program there. This program, which installs connected sensor-based technology in over 1,000 buses, streetcars, and volunteer vehicles, aims to prevent crashes, enhance traffic flow, reduce emissions, and more.  
Another upcoming pilot program aims to improve resiliency after major weather events such as hurricanes. This involves installing solar panels that provide continuous energy so that, during a storm or power outage, basic infrastructure like stoplights can receive power and immediately free up important resources such as police officers who would otherwise need to direct traffic. 
In the coming years, the city is developing a framework for deploying smart city solutions related to transportation, energy infrastructure, healthcare, and more.
Atlanta, Georgia, USA
As the capital and most populous city in the state of Georgia, Atlanta is home to a number of thriving industries. Unfortunately, it is also an incredibly divided city economically, which led Mayor Keisha Lance Bottoms to seek to make it a more equitable place to live with her One Atlanta and Smart Atlanta programs. 
"We like the challenge of taking things which are not typically deemed technical innovation issues," said Tye Hayes, chief technology officer for the City of Atlanta. "That makes it exciting and gives us the chance to go out and look for opportunities to show where technology can move the city forward and help us solve these problems."
They are trying to bridge the economic gap by providing more secure connectivity for everyone and using real-time data in a more sophisticated manner, which includes partnering with Georgia's utility companies to turn street lights into connected digital infrastructure. They are also taking a holistic approach to transportation and transitioning to 100% clean energy by 2035. These changes will span housing, health, energy and more.
Barcelona, Spain
For years, Barcelona has been at the forefront of the smart city movement. This ranges from parking spaces with sensors underneath the asphalt, identifying available spots and notifying nearby drivers—thus reducing emissions and congestion as they search for spaces—to a sensor-based LED streetlight system that is more energy-efficient, reduces heat throughout the city, and provides information about the environment, including pollution, humidity, temperature, and more. These sensors have even helped residents detect and reduce unhealthy noise levels in certain parts of the city. 
Barcelona also has a public transit system that uses bicycles. This system, known as Bicing, allows residents to share and borrow bikes for short rides. Initiatives like this, coupled with an innovative bus network, has significantly reduced car traffic in the city. 
Other services in Barcelona include electric vehicle recharging stations, public Wi-Fi, and smart waste disposal bins that utilize vacuums to suck trash into underground storage. This helps waste management efforts throughout the city.
Vizag, India
Visakhapatnam, also known as Vizag, may not be the first name to come up on lists of smart cities, but it has made a significant push in recent years as part of India's Smart Cities Mission. As a result, it's becoming one of the world's most dynamic metropolises. 
That's because, a few years ago, this coastal city was selected for collaboration with U.S. and global resources to develop smart tech in the areas of rapid transit, electric buses, emergency response, and water management systems.
Thanks to these efforts, the city recently earned two awards at the third Apex Conference on Smart Cities held at the Andhra University Convention Centre in Vizag. It was recognized in the Innovation and Performance categories, specifically for its outstanding project implementation of the Smart Cities Mission and for initiating a floating solar power project at the Mudasarlova Reservoir, a project that now generates enough power to significantly reduce electricity bills. 
Delhi, India
India's capital city is also no slouch in the smart technology front. As one of the key regions for the Smart City Mission, Delhi has completed nearly a dozen major projects, including water ATMs, outdoor gyms, a biomethane plant, solar rooftops, smart parking facilities, and more. But many other projects have been launched, such as high-speed fiber-optic cable, public Wi-Fi, smart street lights with cameras and sensors, solar trees with LED lights and mobile charging points, smart classrooms in government schools, mechanical road-sweepers, and more. 
Let's detail one of those: water ATMs. This program was designed to help address water shortages in India's capital, and the government has since set up hundreds of these devices across the city, in many cases as additions to existing public toilets in the New Delhi City Centre area. These facilities now include four essential services: a toilet, a water ATM, a cash machine, and a digital clinic. 
The water ATMs themselves are tall, cylindrical concrete structures that contain solar-powered machines that appear and operate much like an ATM, only instead of cash, they dispense water—and they do it for a fraction of the price of bottled water, meaning potable water is available for many who could not otherwise afford it.
What's Next for Smart Cities?
The true future of smart technologies in metropolitan areas lies in several domains, from water management to transportation to grid modernization. Each of these will help lead us to more efficient utility optimization and other advancements that can make city life simpler and more sustainable. 
These topics and more will be up for discussion at India Smart Utility Week. Amzur's own Raymond Kaiser, director of Energy Management Services, will speak at this event, so you'd be wise to set aside time to see it.