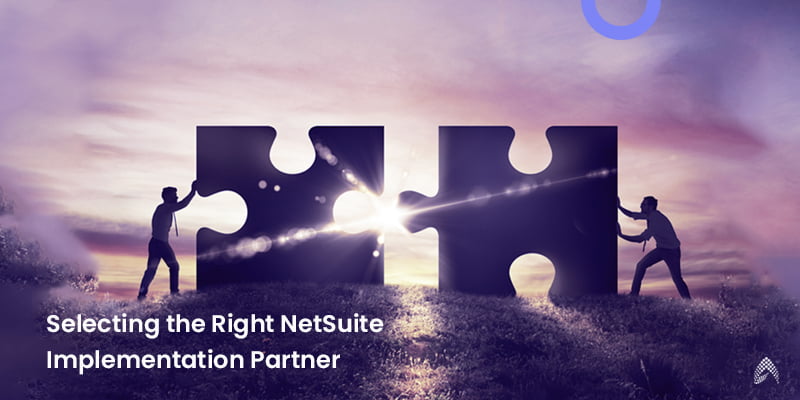 For forward-thinking organizations, embracing cloud ERP solutions has become a winning strategy. Cloud deployment has opened doors for fast-growing businesses of all sizes and across all industries, ensuring organizations achieve cost saving, better performance, scalability, accessibility and efficiencies in business transactions.
Among many available cloud ERP solutions, NetSuite has become the #1 option for most SMEs across industries because of several key benefits that it has been proven for.
Benefits of NetSuite ERP:
1. Reduction in administrative costs
NetSuite ERP is an advanced and highly compatible solution for integration with existing ERPs and CRMs. This helps you eliminate the hassles of data availability and dependency, saving your team's time and administrative costs by at least 40%. Also, since you don't need to worry about on-site upgrades and IT maintenance costs, cloud ERPs help save substantial money.
2. Enable quicker decision-making for CFOs
The CFO's role in IT is now becoming increasingly strategic with the evolution of technology. Beyond ensuring financial discipline and managing cash flow, they are being asked to offer a financial perspective on new strategies for growth with greater accuracy. In this scenario, a platform like NetSuite ERP plays a key role in making the CFO's job easier.
NetSuite provides extensive dashboard customizations, including real-time financial operations, budget information, order-to-cash, procure-to-pay, and other organization-wide processes that help in faster decisions.
Overall, it provides a unified solution for CFOs to automate and advance the reporting capabilities within the organization, and free them to focus on more strategic initiatives.
Automated tax compliance:
Built-in automation and accounting for international tax code variables allow them to navigate financial compliance issues with ease. During business expansion, you have to ensure that your business meets country-specific tax compliance standards. SuiteTax is a configurable tax engine that delivers end-to-end global tax management solutions. SuiteTax simplifies global tax compliances and eliminates manual calculations while generating detailed reports in real-time.
Users can access their business reports on their mobile applications, allowing quick and accurate decision-making. NetSuite SuiteAnalytics is an advanced and integrated reporting dashboard solution that allows you to track KPIs in real-time. With embedded analytics, companies can perform actionable analysis and get financial insights. With NetSuite ERP, you can make decisions confidently backed by accurate and timely information on the go.
3. Flexible and scalable application
Speed matters in every business aspect today but legacy applications may make it difficult to launch new business models and gain from new market opportunities.
Since NetSuite ERP is available in a SaaS model, not only does it constantly provide new features and capabilities, it also allows companies to easily scale up/ down based on your business needs. Budget optimization becomes easy, and you don't need to worry about upfront investments in a new ERP.
4. Automation
Because every business has unique requirements, automations need to be customized. NetSuite provides extensive opportunities for native integration with other cloud services, third-party software, as well as hardware peripherals (eg. Point Of Sales machines). NetSuite can even be integrated with IoT (Internet of Things) devices for areas such as warehouse & supply chain management.
But not all ERP implementations are the same

As a leading NetSuite implementation partner, we frequently interact with CIOs and business leaders to understand their goals and challenges. They mention reduced process time, increased collaborations, and a centralized data system as the top priorities in achieving their digital transformation efforts. But a common feedback from CIOs and CFOs is that they have trouble identifying the right NetSuite ERP implementation partners, especially when an ERP is being deployed for the first time.
According to a survey report, 55% to 75% of ERP implementation projects fail for reasons ranging from wrong expectations, lack of skills, lack of communication, and even inadequate testing.

This clearly shows that implementing cloud ERP platforms is not as simple as it seems, and requires the support of skilled and experienced people to make it successful.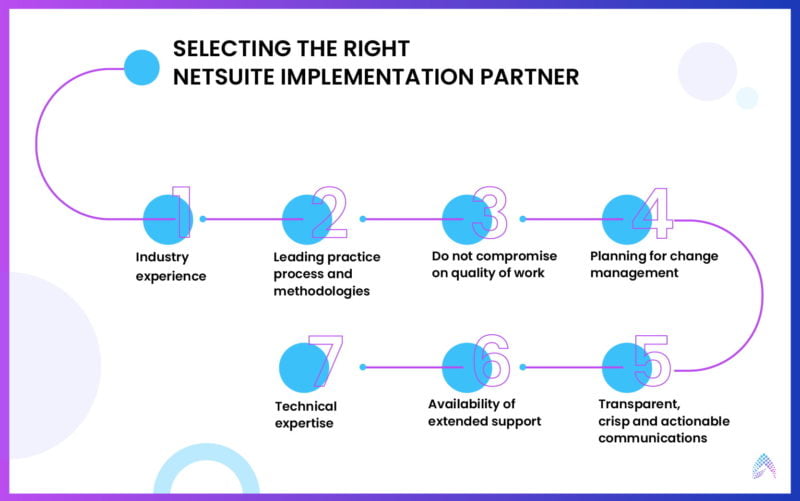 Deployment of a new ERP is like changing the entire digital landscape of your business, and it is critical that you get it right in the first attempt. Here are some pointers to help you in the selection of an implementation partner that is perfect for you.
1. Industry experience
A NetSuite implementation partner with experience in deploying Netsuite at other companies in your industry, can provide valuable insights, would be aware of industry regulations and compliance requirements, and of common pitfalls to avoid. Ensure that you check out their customer portfolio and their industry-specific experience to understand their capabilities.
2. Leading practice process and methodologies
SuiteSuccess is a methodology and is based on extensive experience gleaned from projects conducted across the globe. It is a tailored approach designed to solve industry-specific challenges for faster NetSuite implementation. SuiteSuccess accelerates your NetSuite ROI while reducing overall business risks associated with technology projects.
Above all, certified NetSuite consultants play a vital role in ERP implementation. Since certified consultants have hands-on and industry-specific experience, they help you stay on track with timely support.
3. Do not compromise on quality of work
While evaluating pricing, one of the most common errors that organizations make is to select the lowest bidder. This happens because we often think of it as just a simple switching-on of a cloud based platform.
While NetSuite is easy to deploy in a plain-vanilla flavor, success of a deployment depends upon ensuring that workflows, user interfaces/ fields, processes, etc. are aligned to the company policies and procedures, and this does take a fair bit of customization and tweaking.
It is imperative that you choose a NetSuite ERP implementation partner who understands the specific requirements of your organization and can deliver a high-quality solution. People normally lowball and quality doesn't come cheap. Understand every parameter of the cost shared by the partners and it is always advisable to understand the budget thoroughly before you finalize with the partner.
4. Planning for change management
Choose a NetSuite implementation partner who can adapt to changes in requirements and timelines. Ensure they have a detailed plan and approach for accommodating evolving needs. While projects are designed with specific milestones, plans should also accommodate common change requests such as report formats, updates on transactional fields, etc.
5. Transparent, crisp and actionable communications
Communication is key to the success of any project. Make sure your partner has effective communication channels and processes in place. Evaluate their responsiveness, clarity, and transparency. Proper guidance from the partner's team and appropriate communications will help you stay updated on the project progress, remove doubt and ambiguity.
6. Availability of extended support
NetSuite implementation isn't a one-time task. It requires dedicated and timely support for ensuring that it enables business growth and scalability. Many ERP implementations tend to fail because of poor post-implementation support, lack of training, and miscommunication.
Prepare a list of post-implementation challenges, and then check if a potential deployment partner can provide the capability, flexibility, and affordability required for a long-term relationship.
7. Technical expertise
According to experts, a NetSuite implementation partner with at least 5 years of experience is preferable over new entrants with a limited portfolio. Their success stories and customer testimonials are readily accessible indicators of their expertise. A partner with a dedicated team of NetSuite-certified experts is most likely to be capable of having the right kind of expertise for successful deployments.
Amzur has successfully delivered over 200 NetSuite implementation projects in the last two decades with specialization in the industries like Manufacturing, Retail, E-commerce, Wholesale & distribution, and Food & Beverages. We provide complete services for custom cloud ERP implementations and full support for integration services.
Click here to speak with a NetSuite expert now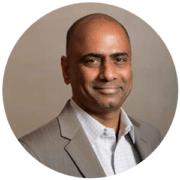 Author: Balaji Ramanujam
Director of ERP Practice
Driving successful NetSuite ERP implementations and optimizing business processes. I'm passionate about leveraging technology to maximize operational efficiency and achieve strategic objectives.
Connect
Subscribe to our blog and get the latest updates straight to your inbox.