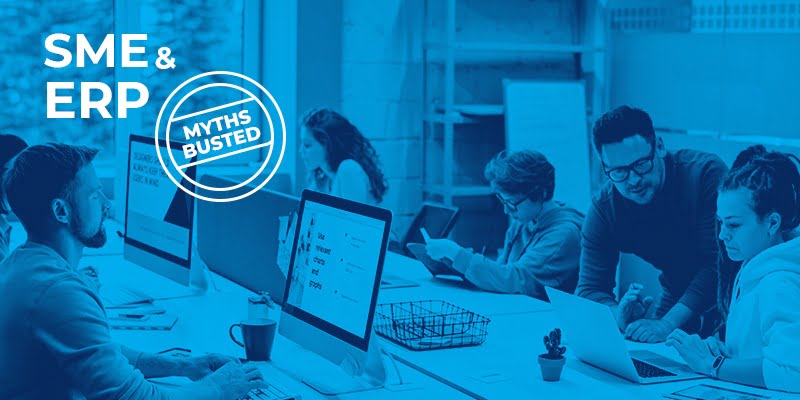 Spreadsheets are easy to use and cost-effective. But what happens if they provide erroneous operations and roadblocks instead of enabling business growth? If you're a small or mid-size company facing challenges with data visibility, integration, and growth factors, you need a comprehensive and customized solution to meet your needs. ERP (Enterprise Resource Planning) software solutions is the current trend that aims to automate businesses' complex processes and integrate disparate systems for better decision-making.
In the current fast-growing industrial revolution 4.0, many organizations are adopting digital technologies to lead the marketplace. With the evolution of ERP software, two-thirds of global CEOs are planning to adopt digital strategies to improve the customer experience by 2020. In addition, 34% of companies say they have already undergone digital transformation, while another 34% say they'll adopt digital methods in the next 12 months. A recent SAP study found over 80% of businesses are experiencing increased growth, while 85% of business leaders have enjoyed increased market share.    
Myths and misunderstandings of ERP software solutions for small and mid-size businesses
ERP systems have a reputation for being costly, challenging, and hard to configure to meet unique business needs. However, NetSuite has changed that by demystifying the speculations with its cloud ERP solutions. NetSuite benefits small and mid-size businesses by keeping upfront investments low and ensuring significant growth. 
1.  ERP systems are only for large enterprises: This used to be true. Now, many leading market players are offering tailored ERP software solutions for small and mid-size enterprises (SMEs). The SME segment is expected to drive the cloud ERP market more than the larger enterprises at a CAGR of 23.9% during the forecast period 2015–2020.

2. Small businesses do not need ERP: Many small business owners think they do not need ERP software solutions. Your business might be relatively small, but that doesn't mean you have to compromise in offering improved customer services. Regardless of the size, a centralized database and control over operations enable quick decision-making. Modern cloud ERPs like NetSuite support small businesses to compete with leading market players. 
3. ERP infrastructure and setup costs are expensive: Previously, this  was the case with on-premises ERP software solutions for business automation. Now, NetSuite ERP software solutions have pushed everything onto the cloud platform, while keeping the IT infrastructure deployment and maintenance costs lower than before. 
4. Integration is difficult: Many organizations use more than one software platform to run their business. If the integration among disparate systems fails, it leads to business disruptions and overhead costs. Whereas ERPs like NetSuite provide an easy and effective way to integrate various systems with suitable APIs.   
Adopting ERP software will bring significant changes in how you access data and use it for future growth. Oracle's NetSuite is among the top chosen cloud ERP software solutions for most small and mid-size companies to automate business and chart growth. It enables businesses to operate in an integrated, optimized, and secure environment
Amzur's NetSuite consulting services for small and mid-size businesses:
Amzur is a leading NetSuite consulting partner with years of domain experience in helping organizations on their digital transformation journey. Our NetSuite consulting services have helped many startups and mid-level companies to make significant growth. We integrate disparate systems within your business with suitable APIs to have seamless data flow and access.  
Amzur's NetSuite Practice Director, Scott Jorgensen, has been working in this space for over 20 years. He has been on every side of the process. His domain expertise and successful implementations help organizations to reach a certain level of growth. Amzur's NetSuite consulting services go beyond IT and support your internal team with training to take advantage of ERP software implementation.