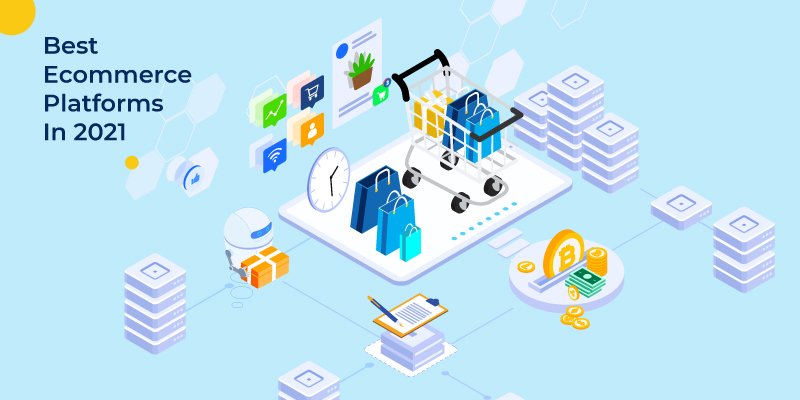 There are a lot of e-commerce platforms out there. The key is to find the right one for you and your business!
What Are E-commerce Platforms?
An e-commerce platform allows merchants to display a product catalog and conduct transactions online. Most e-commerce software supports business-to-consumer (B2C) transactions, but some platforms also support more complex business-to-business (B2B) transactions with contract negotiation and other features.
2 general types of e-commerce platforms
 Hosted and self-hosted open-source software
Hosted e-commerce solutions: Cloud-based and billed monthly, these tend to be more stable and user-friendly.

Self-hosted open-source e-commerce solutions: More advanced, customizable, and free.
Online storefronts are e-commerce platforms that allow shoppers to browse through the merchant's product catalog and purchase products on a website. Hosted e-commerce platforms include a set of premade templates and themes for storefront design. The best e-commerce software for your online business depends on your use cases. There are many different aspects of an online storefront that e-commerce products may focus on, including:
Managing larger inventories.

Displaying multiple versions (e.g., colors and sizes) of the same item.

Managing multiple stores.

Representing digital versus physical products.
Scalability is also a major consideration when evaluating product catalog options and features.
An online shopping cart allows e-commerce website visitors to accumulate a list of products in a virtual space before checkout. In addition to accumulating the list, shopping cart software also calculates the total cost, including shipping and taxes. Some platforms offer other features, such as abandoned cart tools. These save unfinished orders and/or email customers to remind them that there are still items in their cart. Abandoned cart functionality often costs extra or is available only with higher-tier packages. Another function included in some e-commerce products is the ability to suggest products for customers to view. This is typically based on the individual customer's shopping behaviors along with information about which products other customers have been viewing and buying.
Some solutions include in-house payment processing. Others integrate into a third-party payment gateway. Vendors that offer in-house payment processing often charge a transaction fee. Since payment systems need to handle sensitive customer information, most e-commerce platforms have standard security measures in place.
E-commerce Platforms: Features and Capabilities
Online storefront

Product catalog

Online shopping cart

Online payment system or integration with a payment gateway

Order fulfillment and shipping management

Merchant interface/dashboard

E-commerce marketing tools

E-commerce business management

Customer behavior analytics and reporting

Integrations (e.g., CRM, ERP, email marketing, payment gateways, etc.)
E-commerce Platforms Comparison
Here are a few key things to consider before trying to compare e-commerce platforms.
1. Technical expertise required
:
Will the person or team managing your e-commerce website have technical/coding knowledge? Some e-commerce platforms are user-friendly for non-coders, while others offer advanced customization through coding. If you won't have access to a developer or other administrator with coding experience, platforms that include website themes or a WYSIWYG editor may be better for your business.
2. Open-source vs. paid software
:
Are you looking for a free e-commerce platform or something more advanced? If your team has experience with web design, an open-source platform can be a great way to start building your online store. On the other hand, if you're looking for an e-commerce platform that comes with customer support and prebuilt website themes and templates, a paid platform will likely be a better bet.
3. B2B vs. B2C (or both)
:
Do you sell B2B, B2C, or both? Knowing this can help determine what your e-commerce platform needs to do. For example, businesses selling to other businesses will need to segment customer groups and set up customizable pricing and configuration options. Some must-have features for B2C companies include built-in store themes, abandoned cart recovery, and compatibility with multiple payment gateways. 
Monthly subscriptions for hosted products vary widely depending on features and scalability. Monthly charges range from zero to over $1,000 at the high end. It's a good idea to clearly understand requirements and choose an e-commerce platform based on current and anticipated needs rather than just focusing on cost. In the long term, picking the e-commerce platform that is best for your business will present cost savings that may not be immediately apparent.
Name
Description
Trial
Price
Open Source

Shopify

This Canadian-based platform network originated in 2004. Shopify is used by more than 165,000 merchants.

YES

$29/month

BigCommerce

Website builder, shopping cart, payment gateways—BigCommerce has everything you need plus a 24/7 support team to guide you. Storefronts are not unique. 

YES

$29.95/month

Volusion

Launched in 1999, Volusion's complete online store builder has helped its customers generate more than $18 billion in sales.

YES

$26/month

WooCommerce

Downloaded 8,733,955 times, WooCommerce is preferred for its simplicity and myriad of plugins.

FREE

FREE

Squarespace

Squarespace's all-in-one service gives everything you need to create your store without having to know HTML.

YES

$8/month

PinnacleCart

PinnacleCart is a complete e-commerce platform that works perfectly regardless of whether you sell a few products or thousands.

YES

$80/month

Big Cartel

One of the big players, Big Cartel brings everything to the table so you can launch your store with ease.

YES

FREE

Ecwid

Ecwid is trusted by over 800,000 store owners; their full e-commerce platform is aimed at smaller businesses.

YES

FREE

3dcart

3dcart has a complete system to help you run an online shop plus 100+ optimized themes.

YES

$9.50/month

Magento

Magento is a complete and scalable e-commerce platform designed for all businesses, big or small.

DEMO

FREE

Merchium

Start your online store with Merchium and embed it anywhere—on your own website, on Facebook, you decide.

YES

$32/month

SellBeing

SellBeing is a cloud-based e-commerce platform that simplifies the way online stores are designed and managed.

YES

$9/month

Spree Commerce

More than 45,000 storefronts worldwide use this open-source e-commerce platform.

DEMO

TBC

YES

X-Cart

A popular PHP shopping cart software, X-Cart has a lot of features to easily customize every aspect of the checkout process.

DEMO

FREE

YES

VirtueMart

A complete open-source e-commerce solution, VirtueMart has more than 500 features available right now.

FREE

FREE

Yola

Yola uses a different approach; they simply build the store for you, managing all the bugs and issues that come along.

NO

FREE

IBM WebSphere Commerce

IBM WebSphere Commerce is well-targeted, having several plans for small to more complex businesses.

YES

TBC

2Checkout

A popular choice when it comes to online payments, 2Checkout is used by more than 50,000 store owners.

NO

Varies depending on your country

Wazala

Wazala lets you sell on their self-hosted site or to create your own online store.

YES

$16/month

AbleCommerce

AbleCommerce developed a shopping cart software for small to medium businesses that want a reliable and responsive checkout.

YES

FREE

CommerceV3

Built for multi-channel retail, CV3 offers ecommerce software and shopping cart solutions.

$79

CS-Cart

CS-Cart is an open-source PHP/MySQL shopping cart solution with more than 500 features available at the moment.

DEMO

FREE

Salesforce Commerce Cloud (

Demandware

)

Demandware offers e-commerce adjacent solutions targeting brand value and profitability.

NO

TBC

Digital River 

Digital River delivers e-commerce, marketing and payment solutions that maximize revenues and reduce costs.

DEMO

TBC

Celery

Celery helps you professionally manage pre-orders and custom crowdfunding.

YES

2.0%/sale

FastSpring

FastSpring delivers complete payment and subscription services along with award-winning customer service.

NO

8.9% or 5.9% + $0.95/sale

Foxy

Foxy allows you to incorporate their shopping cart software on your own website so you can use whatever platform you want.

YES

$15/month + $0.15/sale after 100 transactions

IXXO Cart

IXXO can be used as it is, on WordPress or on Joomla—it's your choice.

YES

$295 one time

Jimdo

Jimdo helps you put together a store in just a few steps. Easy and effective.

YES

FREE

Jooy

Jooy is a complete and simple store builder that enables you to quickly launch your store.

YES

FREE

KonaKart

KonaKart is an enterprise Java e-commerce platform that requires some coding skills.

FREE

FREE

YES

Kibo (

Marketlive

)

MarketLive is a complete program for omni-channel e-commerce solutions that focus on increasing revenues and customer satisfaction.

NO

TBC

Miva Merchant

Miva is ranked at $100 billion in sales and has two plans: one for small businesses and one for enterprises.

YES

$79.95/month

Moonfruit

Moonfruit offers free and premium services, all of which help to create a highly customized store.

FREE

£3.99/month

Mozu

Mozu is an enterprise platform developed by Volusion, which focuses on delivering powerful and intuitive solutions for all businesses.

DEMO

TBC

nopCommerce

nopCommerce is an open-source e-commerce solution aimed mostly at small and medium-sized businesses.

FREE

FREE

YES

OpenCart

An open-source shopping cart feature, OpenCart cuts down on the steps needed to launch your own store online.

FREE

FREE

YES

osCmax

osCmax is a free shopping cart software that requires PHP and MySQL.

FREE

FREE

osCommerce

osCommerce is an open-source solution with 7,000 free add-ons with more than 270,000 users.

FREE

FREE

YES

PrestaShop

PrestaShop has everything in one place along with a forum with more than 1.7 million posts to help you along the way.

FREE

FREE

YES

ProductCart

ProductCart is a renowned SEO-optimized shopping cart software that allows you to fully customize your store.

DEMO

$59.95/month

Sana Commerce

Sana provides B2B solutions for Microsoft Dynamics NAV & AX and SAP.

DEMO

TBC

SearchFit

As the name implies, this e-commerce platform is highly optimized for search engines.

YES

TBC

ShopGo

ShopGo makes it easy to set up your online store and start selling, offering everything it takes to make your first sale.

YES

FREE+5%Tfee

Shopio

A complete e-commerce platform, Shopio has features ranging from a store builder to Google Analytics integration.

YES

$19.95/month

Shopizer

An open-source Java e-commerce platform, Shopizer allows you to set up your online store in minutes.

FREE

FREE

YES

SoftSlate

Yet another open-source e-commerce platform, SoftSlate offers all the features any online store needs.

DEMO

TBC

YES

Storenvy

Similar to Etsy, Storenvy makes it easy to create and launch your own fully customizable online store.

FREE

FREE

SureDone

SureDone is a rather different e-commerce solution, allowing you to upload your products once and sell them on multiple channels.

NO

FREE

uCoz

uCoz is free to use and has its own CMS, making it easy to draft your first online store.

FREE

FREE

UltraCart

One of the oldest complete e-commerce platforms, UltraCart is designed for small and medium-sized businesses.

YES

$49.95/month

AllProWebTools.com

AllProWebTools provides a lot of tools to take your e-commerce store to the next level, from marketing to online presence.

YES

$30/month

Pimcore

Pimcore is a powerful open-source multi-channel and engagement management platform.

FREE

FREE

YES

Zen Cart

A veteran in the field, Zen Cart is an open-source shopping cart software that supports a lot of currencies and languages.

FREE

FREE

YES

Znode Storefront

This multifront e-commerce platform was built using the ASP.NET open-source program, allowing maximum customization.

YES

TBC

WP EasycART (

Cart66

)

Cart66 allows you to sell absolutely anything on their all-in-one e-commerce platform.

YES

$29.99/month

Drupal Commerce

An open-source all-in-one e-commerce platform, Drupal is content driven and highly customizable.

FREE

FREE

YES

Pulse Commerce (

GoECart

)

GoECart's complete e-commerce suite, GoECart 360 is brilliantly designed and easy to use.

DEMO

$1000/month

IndieMade

IndieMade is a complete e-commerce platform targeted for stores that are more on the creative side.

YES

$4.95/month

Neto

This all-in-one platform is Australia's leading omni-channel e-commerce tool.

YES

$79/month

Selz

Selz is a complete e-commerce platform that's optimized for physical or digital goods.

YES

$26/month

Tictail

/Shopify

Tictail's store builder helps you launch your store in a matter of minutes.

FREE

FREE

CleverBridge

Cleverbridge offers excellent e-commerce and subscription services.

NO

TBC

CoreCommerce

CoreCommerce is a complete online store builder with an ever-growing community.

YES

$39.99/month

Etsy

Etsy is the perfect destination for those who sell handmade or vintage stuff.

NO

Each listing is $0.20 plus 3.5%/sale

Iceshop

Iceshop offers Magento, Batavi and their own services to better deal with the different needs every online store has.

DEMO

TBC

YES

Netsuite SuiteCommerce

A popular cloud-based business management software, NetSuite is used by more than 24,000 customers.

DEMO

TBC

E Bee

E Bee is a global omni-channel e-commerce platform with a ton of features and customization options.

DEMO

TBC

Flying Cart

Flying Cart is a complete e-commerce solution that aims to streamline the whole process of opening an online store.

YES

$9.99/month

BlueSnap

BlueSnap is a global payment gateway that currently supports around 110 payment types in 180 countries.

YES

2.9% + $0.30/per sale

HotcakesCommerce

Hotcakes is a professional e-commerce platform with an easy setup and a very intuitive interface.

YES

$80/month

Jumpseller

Jumpseller is an all-in-one e-commerce platform that powers more than 10,000 stores worldwide.

YES

$19/month

CubeCart

CubeCart is an open-source shopping cart solution that comes with a helpful community.

FREE

$33/month

YES

SunShop/

Turnkey Web Tools

SunShop is a complete e-commerce platform that gives you everything you need to launch and sell.

DEMO

$49.99/month

Squirrelcart

Squirrelcart is a PHP shopping cart optimized for speed and ease of use.

DEMO

$169/One Time fee

YES

ShopFactory

With a customer base of over 243,000 store owners, ShopFactory is a complete e-commerce solution.

YES

$39/month

Vendio

Vendio is a powerful multi-channel e-commerce solution that targets smaller businesses.

YES

$29.95/month

DPD

DPD is a highly customizable and easy-to-use e-commerce platform for digital goods.

YES

$10/month

ShopSite

ShopSite offers e-commerce solutions for small and medium-sized businesses.

DEMO

FREE

fortune3

fortune3 is a website builder and e-commerce platform solution with endless customization features.

YES

$9.95/month

ShopTab

ShopTab allows you to sell your products on Facebook the easy way.

YES

$10/month

InfusionSoft

InfusionSoft offers e-commerce solutions for small business owners.

DEMO

$199/month

Ktools

Ktools is a photostore e-commerce platform that allows shop owners to sell their digital work online.

$19

1AutomationWiz 

1AutomationWiz is an all-in-one shopping cart and market automation software—basically, everything you need to start an online shop.

YES

$39/month

Wix

At its core, Wix is a website builder but also offers online store building services.

YES

$23/month

Smoolis

Smoolis is an intuitive multilingual e-commerce store builder that comes with responsive themes and a lot of useful features.

YES

$16/month

Gumroad

If you're a creator and want to sell your products directly to your customers, Gumroad might be exactly what you need.

NO

$10/month and 3.5% + 30¢ per charge

Weebly

A website builder that also offers e-commerce services, Weebly will make you want to launch your store today.

YES

FREE

ExlCart

ExlCart comes with all the features you need to launch and successfully manage an online store.

DEMO

$199 one time

GoDaddy

In addition to web hosting, GoDaddy also launches and manages online stores, along with driving traffic and boosting sales.

YES

$25/month

Persollo

Persollo is designed for those who want to sell products or services directly to their clients.

NO

$29/month

Rocketspark

Rocketspark is an online store builder aimed at non-tech clients.

YES

$29/month

Schema

Schema is a next generation cloud e-commerce platform, making it easy to sell 10 products or 10 million.

NO

FREE

PayPro Global

Sell software online with PayPro Global; they give you everything you need to do so.

NO

4.9% +1$ per transaction

FlickRocket

A cloud-based e-commerce platform, FlickRocket focuses on the secure distribution of digital content.

NO

Transaction fees vary depending on the content you sell

Ecommerce Templates

Shopping cart software for Frontpage, Dreamweaver, Expression Web, CSS, and GoLive templates.

DEMO

$229 one time

Shoprocket

Shoprocket allows complete design freedom, and it's currently used by 8,571 sellers in 54 countries.

DEMO

Various

Snipcart

Powering 4,000+ e-commerce sites, Snipcart allows you to turn any website into a powerful e-commerce store.

DEMO

2% per transaction +payment gateway fees

VevoCart

VevoCart is an ASP.NET e-commerce solution that's easily customized and configured.

FREE

FREE

YES

BV Commerce

BV Commerce is an ASP.NET shopping cart with limitless flexibility.

DEMO

$1195 one time

Eonic

Eonic's services are highly customizable and built on their web CMS.

NO

TBC

Expandly

Expandly allows you to successfully sell on multiple marketplaces, having 35+ e-commerce sales channels in one place.

YES

FREE TRIAL

Shout CMS

Creating content, managing sales and processing invoices—Shout CMS offers all this in a single platform.

NO

$79/month

WP

EasyCart

WP EasyCart is a WordPress e-commerce cart that's simple, flexible, and affordable.

YES

$50/site

Mi9 (

Upshot Commerce

)

Upshot Commerce is an omni-channel commerce cloud platform built for all business models.

NO

FREE, $69

Virto Commerce

Virto Commerce allows you to quickly create powerful and unique online stores.

FREE

FREE

YES

Loaded Commerce

Loaded Commerce is an open-source e-commerce platform that powers more than 10,000 stores.

FREE

FREE

YES

AbanteCart

AbanteCart is a free open-source shopping cart application suited for any business.

FREE

FREE

YES

GrandNode

GrandNode is open-source e-commerce software based on ASP.NET and MongoDB.

FREE

FREE

YES

LiteCommerce

Compatible with Drupal. LiteCommerce is very customizable and comes with ready-made extensions. 

FREE

FREE

YES

Arastta

Arastta is an open-source e-commerce software built with modern technologies such as Symfony, MVC, Bootstrap, jQuery, Swift Mailer, etc.

FREE

FREE

YES

YesCart

YesCart is an open-source omni-channel e-commerce platform that uses Java technology.

FREE

FREE

YES

VP-Cart

With over 50,000 installations globally, VP-Cart's open-source coding makes it an all-in-one solution for any business.

FREE

FREE

YES

eCRATER

eCRATER is simple to use and  provides a marketplace for all your products.

NO

2.9% per transaction

NO

Zeuscart

Zeuscart is an open-source, PHP/MYSQL shopping cart software.

FREE

FREE

YES

SamCart

A shopping cart for marketers, by marketers.

NO

$49

NO