Background:
One of our clients needed to be able to authorize their customers' credit card for a fraction of the order total when a sales order was created, and then charge the credit card in multiple installments each equal to that fractional amount when the sales order was billed. While billing in multiple installments was easy enough to do with Billing Schedules, the fractional amount Credit Card Authorization required some simple customization.
Solution:
The Payment Amount (field id: paymentsessionamount) field on sales orders can be used to set an authorization amount, before submitting the sales order. This field is available under the Billing: Payments section on a sales order. By default, the field is not visible on forms, but a custom form can be used with this field made visible. A workflow or user event script can then be used to set this field's value upon creation but before the sales order is submitted. If the "Get Authorization" checkbox is checked on the sales order, then the authorization will be processed for the amount in this Payment Amount field.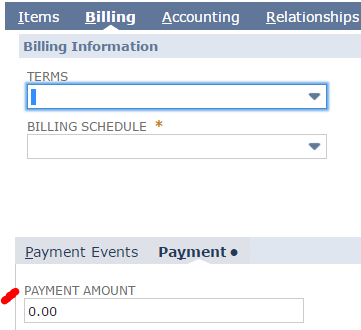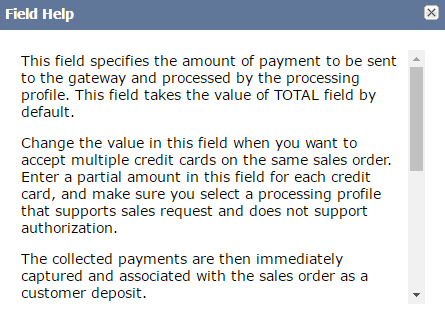 Assumptions:
Credit Cards captures and authorizations are through NetSuite.
This is a back-office sales order, not a web order.
Note:
I originally posted this solution on the Net Suite User Group in response to one of the questions.