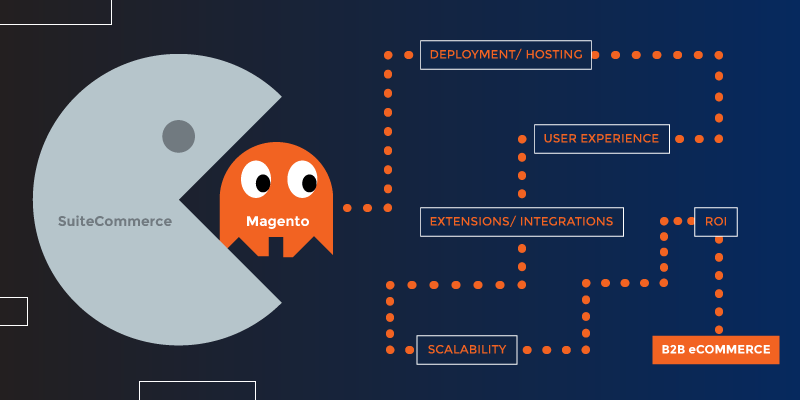 Magento 2.0 is Making a Way for SuiteCommerce to Take a Bite of Its Space
Magento is an open-source e-commerce platform written in PHP. It has been an e-commerce platform. Since its upgrade to Magento 2.0, it has been experiencing upgrading challenges.
SuiteCommerce is a unified e-commerce platform by Oracle NetSuite. It supports several core operational systems such as inventory, order management, financials, and customer support. Being part of NetSuite solutions, it allows for seamless integration with NetSuite in-store (POS), inventory & warehouse management, which, in turn, creates better process flows for a seamless omnichannel experience.
Keeping Magento or replacing it with another solution starts the budget talks. Let's review the features of how these two differs:
Deployment, Hosting, and Codebase
Magento offers both on-premises and cloud deployment. Magento customers or partners have to handle web hosting separately. It includes additional management cost for customers to maintain code repositories and supporting development environments.
Netsuite SuiteCommerce is strictly a cloud-based solution like all other NetSuite applications. NetSuite vendors will manage application deployment and maintenance. Therefore, customers can focus on other business operations.
Magento comes with complex PHP architecture. It requires extensive manual support to manage and administer the system. Whereas, SuiteCommerce comes with a single page architecture that makes its maintenance easy.
User Experience
User Experience is one of the biggest challenges for any B2B eCommerce company. Despite the platform, users expect seamless navigation, order management, and payment process. If your eCommerce platform doesn't meet these requirements, you have to compromise customer retention.
67% of consumers and 74% of business buyers say they'll pay more for a great experience.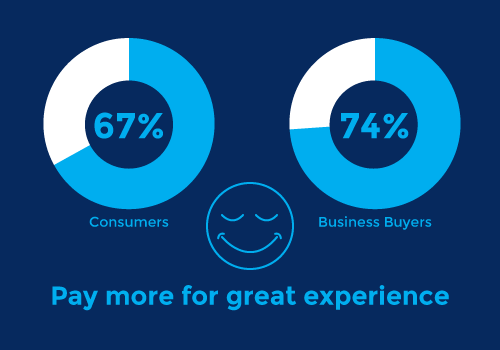 Increasing customer retention rates by 5%, increases profits by 25% to 95%.
Click here to know more.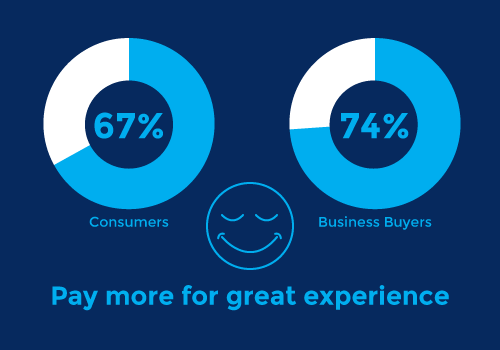 In the Magento platform, user experience is not always consistent. Customers often face challenges while integrating into a variety of different solutions. It requires advanced PHP and MySQL knowledge to integrate and troubleshooting expertise when bugs come up.
SuiteCommerce enables seamless integration with native NetSuite applications like ERP, POS, and CRM. Backward compatibility is another intuitive feature of Netsuite SuiteCommerce. So customers won't have re-configuring problems when a new update pop-up. SuiteCommerce delivers a unified and consistent user experience across multiple channels.
Extensions & Integrations
Being said, Magento is a patchwork solution, it doesn't come inherently with ERP or accounting integration features. If customers want to integrate new features, they will have to rely on third-party extensions, middleware, and attention from PHP & MySQL developers.
SuiteCommerce is an integrated solution that surpasses the challenges of unreliable third-party extensions and code conflicts. SuiteCommerce clients can have accessibility to the required modules without any compatibility challenges. On-demand extensions and integrations are possible with NetSuite SuiteCommerce.
Scalability
It is one of the pain points to be addressed in growing B2B eCommerce companies. When a business is expanding over the boundaries, eCommerce platform should ensure:
Handling website traffic,
Number of transactions,
Fulfillments,
People, products, and processes.
In the case of Magento, scalability is the concern. It depends on the applications and connectors, whereas, NetSuite SuiteCommerce platform supports multiple languages and global accounting regulations.
Return on Investment (ROI)
In sum, Magento is a solution that needs extensive development skills, managing issues, and scalability challenges. NetSuite offers a go-to-market customized integrated solution that supports growth and improves B2B eCommerce shopping experience.
Are you still struggling with Magento eCommerce solutions? If Yes, get in touch with Amzur's NetSuite team to learn more about how SuiteCommerce would be a one-stop solution. Automate and manage your B2B eCommerce operations with ease.
Get in touch