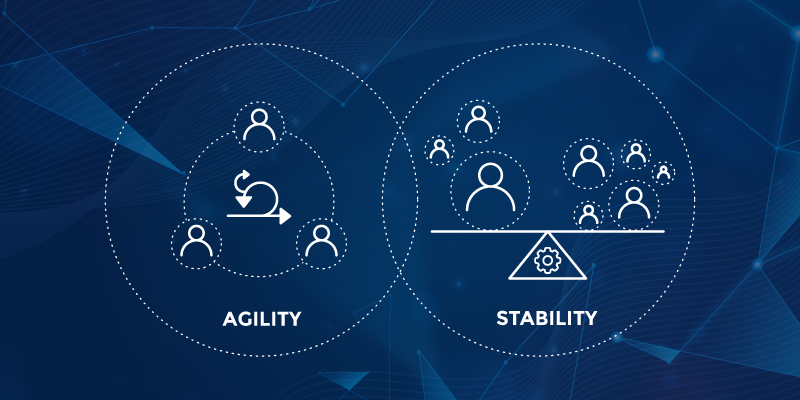 As the 2020s kick-off, transformation is on everyone's minds. More than half of executives report concern over the risks of digital disruption, also known as the impact of new digital technologies on existing marketplaces and business models. The cost of being unprepared could include losing market share or talent to exciting new companies.
The key to avoiding stagnation in the era of digital transformation can be summed up in one word: Agility. Staying agile as a business is not always simple, though. In fact, it comes with at least two requirements: 
Speed

, of course. How nimble is your organization? Do you have the capability to adapt? To move quickly or even set the pace in your marketplace?

Stability

. Less expected, but equally important. Does your business have a solid existing foundation to move and build from? 
The assumption that agility and stability are mutually exclusive is a false one. Just imagine an olympic sprinter trying to launch from an unbalanced stance or uneven surface. The results would be disastrous. And the same applies to your business. You need steady people and processes if you ever hope to be agile. So view your established workforce and systems as what they are: valuable strengths, assets worth leveraging.
But that doesn't mean you won't need to retain and attract new talent to spearhead new ideas as well. And doing that means building new strategies that capitalize on your stability so you can move with unbridled agility.
Building Upon Stability
For businesses large and small, stability starts with leadership. No matter how innovative a company's ambitions, no matter how future-proof its ideas, teams must buy into their leaders' vision for where a business is headed, and they must know they've been set up for success. Not only to cope, but also to thrive as a company executes big plans for the future. From the C-suite to the HR offices, their success is your success. Remember that.
The best way to achieve this success is by placing the right people in the right roles and trusting them to perform. I don't just refer to skill sets, but also personalities. Knowing who works well together and who will form a team that grows stronger rather than breaks apart under pressure is just as vital, if not more important, than knowing which on-paper skills fit which job descriptions. I wrote previously about creating innovation teams, and forming and revising those teams is one way to find out who works best with whom in a flexible, dynamic environment.
Once you've done that and learned from it, you can move on and start building upon the stability you've established by nurturing flexible, innovative, agile thought.
Flexible, Cross-Functional, Innovative Thinking
One of the best ways for companies—especially large ones with established products and services—to promote flexibility and innovative thought is freedom. Freedom from micro-management and traditional management hierarchies. Granting your employees, both new and long-standing, the freedom to work as they wish can result in leaps and bounds better performance than traditional employment models.
This doesn't mean creating an open office layout or letting employees browse the Internet all day. It means providing a space that is structured enough to keep business flowing but which runs on trust and independence. Allowing for more flexibility and fewer rigid rules will make for happier employees who feel safe moving with greater agility—and who want to stay with your company through thick and thin.
HR professionals play a huge role in this, as they can advocate for nontraditional hierarchies and less strict contracts. I'm talking about flexible scheduling, work-from-home days, loosened corporate structure, smaller, more integrated teams where members sit in the same space with their leaders, on equal footing. Partnering with a staffing company like Amzur, which vet and screen those employees for you, can ensure you get people who can work effectively under these conditions.
There are a variety of ways to approach the joint problems of instability and low agility, but as long as you are making decisions from the viewpoint of trusting your employees and giving them the freedom to work in ways that increase their effectiveness, you will find your company's operations and initiatives becoming faster and more sure-footed. And that is a recipe for short- and long-term success, in the realm of digital transformation and far beyond.
About Author
Sam Velu, Head of IT Talent Acquisition at Amzur Technologies, is an industry veteran with over 20 years in the staffing business. At Amzur, Velu specializes in promoting high-quality and high-value technology services that optimize business growth. He values community and economic advancement, as shown when he served on the Hamilton Business District in Franklin, New Jersey, to attract new businesses to invest in the city.