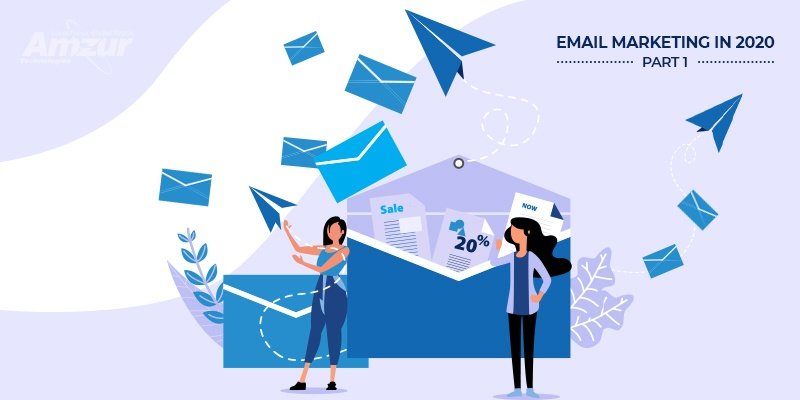 Why Email Marketing Is Good for Business
Email gained popularity in the '90s with software like Emacs on Unix and Mutt—simple programs for sending messages between co-workers. But it has since become one of the top methods for marketers to reach their customer base. While it can be delivered to cell phones like text messages or web browsers like synchronous chatting, email is an asynchronous communication tool that can help promote a product, generate hype, and serve various other purposes. 
Over the past several years, increasing numbers of smartphone and internet users have  enabled email to develop global reach. 

Nonetheless, based on our inboxes, we can determine that email marketing is being widely utilized in the media, IT and telecom, retail and e-commerce, travel and leisure, and other industries such as banking, financial services, and insurance. In these markets, it is the main source of marketing for business expansion, where these software and services are growing in use as white-label products, third-party standards, and web-based applications. From the volume of integrations across the board in the digital space, the third-party standard should become the preferred component within the next few years. 
You have probably heard of or are using the following companies for global email marketing:
Zoho Corp

GetResponse

VerticalResponse Inc.

dotmailer Ltd.

BlueHornet Networks Inc.

Constant Contact Inc.

Drip Inc.

Microsoft Corp.

Salesforce Inc.

iContact Corp

Responsys Inc.

Epsilon Data Management, LLC

Campaign Monitor
Internet and digital marketing have been completely transforming the ways we do business. With a bigger reach comes greater responsibilities to your audience in terms of understanding what they want and need. 
These digital consumers expect more from you than promotional content. They expect less promotional content and more informational content. If you don't provide that, you risk losing valuable subscribers. Simply having an email list is no longer enough; you need to interact and build relationships with them. Only then will you be able to monetize them.
Marketing by email is still one of the best ways to reach customers. Unlike the transactional emails that are triggered and sent programmatically, marketing emails are timed and sent strategically to the recipient. Some of the current trends show a variety of campaigns and email series, including: 
Welcome emails

Seasonal campaigns

Triggered email series

Post-purchase drips

Post-social connection drips

Newsletters

Cart abandonment campaigns
The ultimate goal of most email marketing campaigns is to increase conversions. A timely reminder that your customer's prescription is running out, a notification of a hot sale, or a warning that space is limited for that Katy Perry/Snoop Dogg concert can quickly boost your bottom line. It's an opt-in system, which means your audience gave you permission to email them about an agreed-upon topic. Because they opted in, the chances that your audience will pay attention to your emails is much higher. The relevancy, consistency, and quality of your messaging all play into your click-through and open rates.
Let's Take a Break from All This Reading About Emails:
Do Create Mobile-Friendly Emails.

Don't Send Too Many Emails. 

Do Send transactional Emails.

Don't Send Duplicate Emails.

Do Personalize Subject Lines. 

Don't Buy Low-Quality Leads. 

Do Segment Your Email List.

Don't Focus Strictly on Open Rates.
Amzur knows email marketing, and we know it is done best through NetSuite with the Bronto Connector for NetSuite. 
NetSuite Email Integrations
Oracle Bronto, a cloud-based email marketing platform, can provide full automation for your campaigns. Even better, a prebuilt integration can enable bi-directional data exchange between Bronto and NetSuite's ERP and ecommerce solutions, providing the information you need to engage customers and drive conversions across multiple channels. Amzur can streamline this process because we know integrations such as the Bronto Connector for NetSuite, which will help you automate highly targeted, personalized email marketing campaigns.