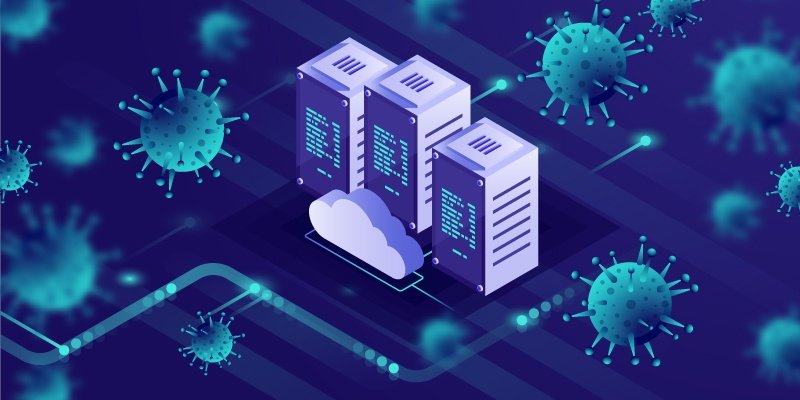 Since December 2019, the COVID-19 pandemic has caused well over 210,000 deaths worldwide, making the risks to our physical well-being as frightening as they are tragic. As a result, the ongoing outbreak has the entire world on high alert. But the disease may affect more areas of our lives than many realize.
That's because China is the point of origin for more than just this deadly virus; it's also the source for many of the consumer electronics and machines we use every day, not to mention the parts used to assemble and build those goods, such as sensors and other small components. Coronavirus has already had a huge impact on factory productivity and international shipping, and experts warn that if the virus continues to spread, the global economy will continue to suffer.
The United States, in particular, has a consumption-driven economy, and over the past several decades, low prices have fed growth in that sector, driven continually down by overseas production. Could this global health emergency result in higher costs for consumer goods? Or will its disruptions to the world's economy be even more insidious?
Effects Felt Around the World
Although the virus has spread slower in certain areas due to international quarantine efforts, the impacts can still be felt in a variety of ways, from severe disruptions in air cargo and overland shipments to heavy congestion in many ports.
Outside of China, events and trade shows have been affected, including the Mobile World Congress in Barcelona, widely known as the year's highest-profile mobile phone industry gathering. Several major companies, such as Intel, Sony, and Amazon, pulled out due to concerns about the virus. Finally, the organizers canceled the event altogether. What followed was a global domino effect of major and minor event cancellations.
Inside China, Foxconn, the company mainly responsible for the production of Apple's iPhone, shut down two major plants because of government orders related to the coronavirus. Motor vehicle firms like Hyundai Motor were also forced to halt vehicle production in many factories. Even as these workplaces began to reopen in March, however, employers found themselves needing to let workers go due to disruptions in global trade. 
Coronavirus is causing disarray around the world, from materials and labor to sourcing and logistics. Even so, we may not have yet felt the true impact of the virus.
The Worst Could Be Yet to Come
With coronavirus disrupting global logistics and supply chains, the short- and long-term consequences are unpredictable at best. But long periods of economic inactivity will make any industry suffer, and some experts believe the impact could linger for months or even years after the outbreak comes to an end. And that isn't considering a possible second wave of COVID-19 in fall 2020.
Some countries' importers and exporters are already taking measures against the spread of the virus. Indonesia's food and beverage industry, for example, temporarily stopped imports from China as a precaution. Initially, U.S.-based businesses like McDonald's and Starbucks temporarily closed locations in and around the Chinese city of Wuhan, the epicenter of the outbreak. But after the virus continued spreading, they closed more and more stores. Former Starbucks CEO Howard Schulz speculated that 30% of those stores may never be able to reopen. And the virus is having impacts on unexpected industries as well.
Take insurance. Insurance claims have spiked across a variety of industries as revenue and production drop, trips are canceled, businesses struggle, and hospitals fill up. All of this may result in rising premiums, not to mention increasing demand for more sophisticated tools and strategies for safeguarding a business against these types of emergencies.
A Path Through the Chaos
Considering pandemic events are difficult to predict, an agile mindset is crucial to navigating them effectively. Business owners must think in terms of continuity and risk management rather than reactive responsiveness—they must focus on preemptively addressing decreases both in worker productivity and in consumer spending. It might seem too late to do this now, but there are still steps you can take to mitigate this crisis. 
One of the best ways to implement such a risk management framework is with cloud technology. Obviously, a comprehensive digital strategy must complement physical countermeasures, such as building buffers in stock to prepare for shortages and conducting "what if" exercises that help prepare for the next disaster. But cloud-based platforms like Netsuite allow for all data and digital resources to be stored remotely, accessible anytime and anywhere—these resources might include supply chain monitoring and response programs, meaning everyone will have access to mission-critical information at all times. Converting to such a system as soon as possible can instantly enhance your stability.
Cloud solutions are some of the cheapest and most secure ways to bring peace of mind in the face of chaos, but the true key is how we learn from this experience. Before the next crisis comes, will we be able to shift into a preparation mindset? With the proper preparations in place, the next global emergency may not look quite so frightening. In fact, it may start to look like an opportunity—an opportunity to prevent stall-outs in commerce, to be prepared with resources the world needs, and maybe even to save lives.